Blog 21. Disaster Strikes

Alcedo
David Batten
Thu 24 May 2018 06:42
So by now we should be leaving New Caledonia for Australia, with Jane and Bill. Instead, we are at Aukland airport and Alcedo is sitting on the hard at Port Whangarei, waiting for a keel.

What happened? Well nothing really, except when we came to lower the keel to work on it over the Easter weekend, it would not quite reach the fully down position. It has done this once before, but located correctly after the boat moved around a bit and it had come up perfectly last year. Maybe the boat was not quite level in the hoist, or more grease was needed, we were optimistic that it was just a blip. Silly us. We were a bit concerned about the amount of rust showing on the starboard side of the keel where it joined the top box and did consult with boat and keel designer, but by the time we got a response from the keel designer, the boat was in the water and we were a long way down the commissioning and provisioning line.

Also with us was Bill, who was going to sail to Opua with us so we could assess our compatibility before the longer sails to New Cal and Australia. We were pretty confident that we were going to get along pretty well, after all, how many crew members spend the first couple of days getting to grips with a blocked loo pipe and a mouldy spray hood with great competence and humour!

Sadly, we had an email from the keel designer expressing doubts about the rust and suggesting an ultrasound scan, which amazingly, we had done within 24 hours. Thank you Stork for being so efficient and Tom for working overtime. However, the delay and doubt meant that Bill needed to return to Aukland, while we waited for ultrasound reports and engineering advice. After a report that did not cause concern, we set off downriver to anchor in Urquart'sBay and to test the keel. It resolutely refused to go down fully, so we had no option but to return to Port Whangarei and lift the boat again and get the keel out of the boat to see why. So thank you Roger that we could get the keel out of the bottom of the boat, albeit with some major deconstruction work.



Alister and David taking what UMPWE they could get at off the keel



The big diesel tank on the saloon seat. This had to be emptied and lifted as 2 of the bolts fixing the steel plate that the keel sits on when in the down position were underneath it.



UMPWE removed, showing all the rust underneath, the source of the problem



Alister and Dan trying to get the plate off the boat. It was very firmly fixed with filler and Siko.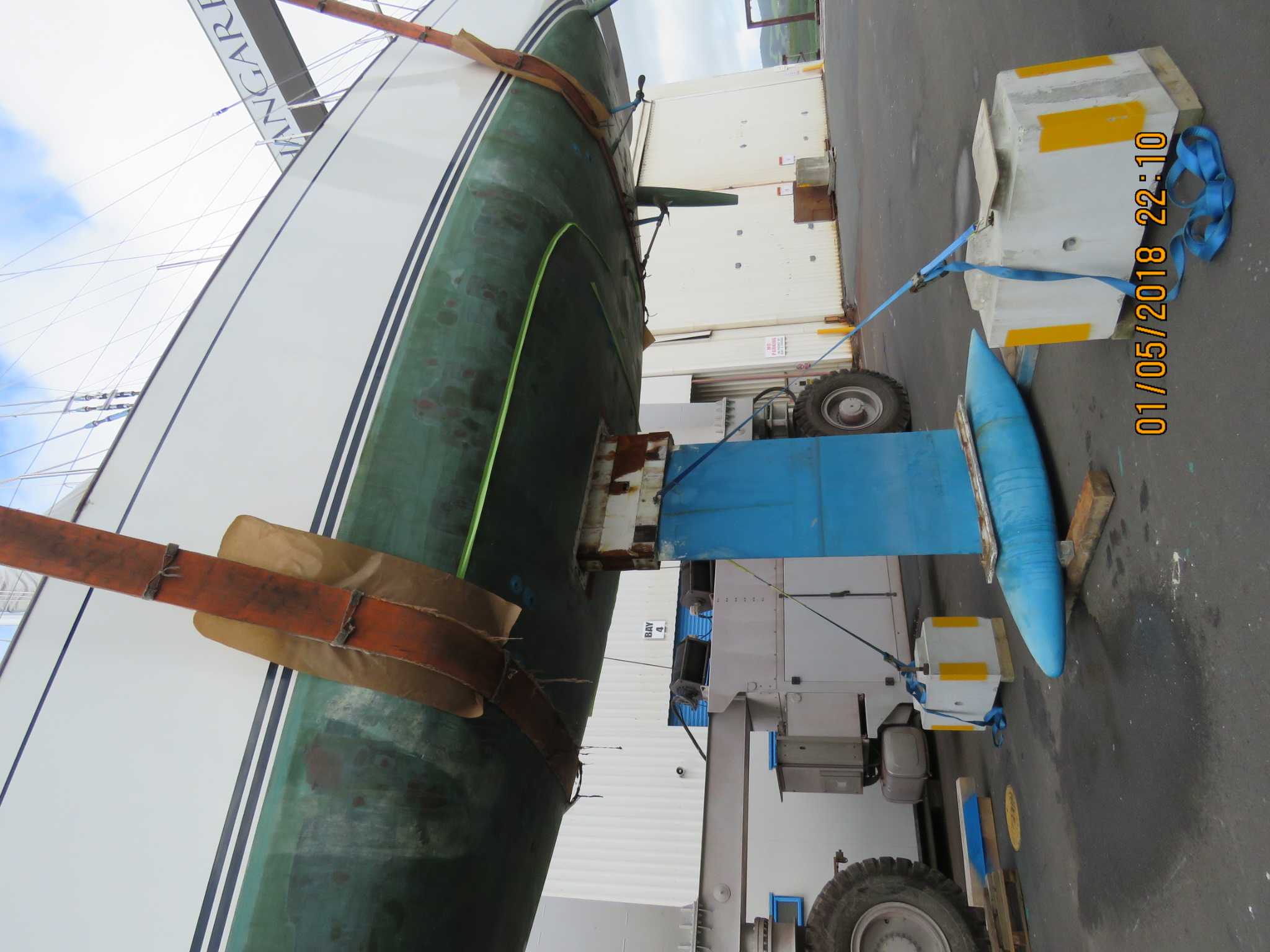 After much time and effort, the steel plate is off and the keel box finally emerges from inside the boat



The keel and bulb left like some piece of modern art while Alcedo is taken back to her cradle, with the Skipper looking on.

We still had to get the bulb off, but running out of internet capability for sending photographs!

Alcedo

Sent from my iPad
---