Blog 9. 13/14 March. Manapouri and Doubtful Sound

Alcedo
David Batten
Thu 22 Mar 2018 20:08
We left Dunedin late morning after domestic chores and shopping, heading for Manapouri and Doubtful Sound, booking a trip up Doubtful sound with Go Orange as we travelled. We decided to give Stewart Island a miss as this would have made the trip too much against the clock, so it was a fleeting visit to Lumsden and a virtual wave to Sarah and Richard's relatives and on to Lake Manapouri for an early morning start in not very promising weather.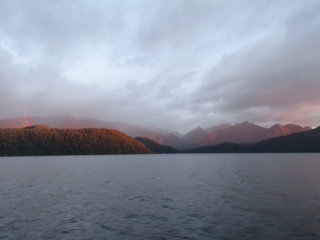 Impressive scenery, Lake Manapouri and the rising sun just catching the mountain tops.



Followed by a coach trip across Wilmot Pass, with waterfalls, land slips and rain forest to Deep Cove.



Scenes from Malaspina Reach and Doubtful Sound.



Glimpse of the Tasman Sea as we approach the Shelter Islands.

Much less touristy than Milford and much longer, the journey up the Sound goes as far as the Shelter Islands, how far depends on the state of the Tasman Sea and how rough it is. Not too bad on the day we went and showers only, which was good weather for this part of the world.

Alcedo
Sent from my iPad
---