Blog 61. Lombok. 24 September

Alcedo
David Batten
Wed 25 Sep 2019 10:27
The god of small yachtsman looked after us in Moyo as the anchor came up without a pause and we had a good sail to start with in the company of a family of 3 dolphins, 2 adults a baby.



What we assumed to be mother and baby playing at the bow. Mother always kept herself between the boat and the baby.

We were later joined by a pod of 4 adults, so more photographs of splashes and dolphin backs and a short video, a first! Then very little wind and a motor sail to anchor off Lombok in Selat Sungian.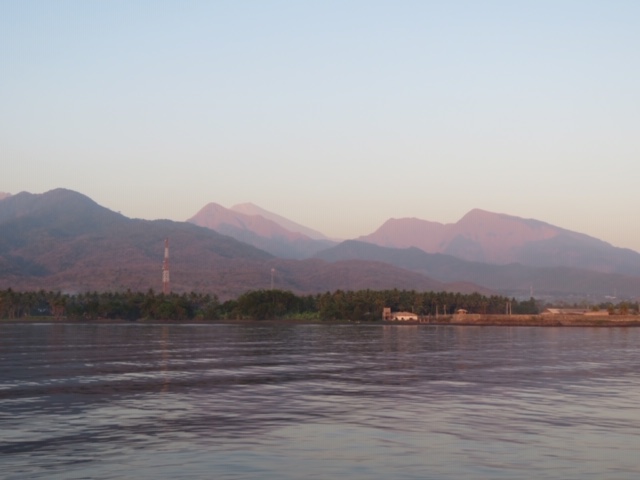 East coast of Lombok from Selat Sungian anchorage, early morning.

Next morning found us motor sailing towards Medana Bay, our Rally destination in Lombok, together with Hecla and skipper John, one of the few single handed sailors on the rally, Endorphin (Colin and Izzy), Vaa Nui and Sky Blue Eyes. To keep us entertained, we passed a huge pod of dolphins and lots of fishing boats, some with nets and very much on our route. Sailing up this coast in the dark is not to be recommended! Vaa Nui was in first, with us second and we anchored well off the "marina" in the entrance to the bay in about 27 meters. Luckily the wind, which got up just as we were approaching Medana, was from the west, so the anchorage was quite comfortable. Other yachts arriving before us have found it almost untenable in the then northerlies, so we were in luck.



The anchorage at Medana Bay, somewhat crowded on the 21 September, the day before the World ARC left to start their leg to Christmas Island and Cocos Keelung

Medana Bay has been good stop for us, with shopping at Sengiggi for more European products like cheese, yoghurt and some cereals, local shopping for mangoes, properly in season at last and really delicious, fuel and gas and two tours.



Filling up with fuel, a very long process involving 15 cans of fuel, 4 marina staff, one skipper and 2 crew, the latter taking photographs during a pause in monitoring the fuel gauges and working the winch to haul up the 35 litre cans.



Tour no. 1, a visit to a local wildlife park and a welcome break after refuelling. Here washing a Sumatran elephant (female) ....



... and getting acquainted with a hornbill...



....an orangutan and....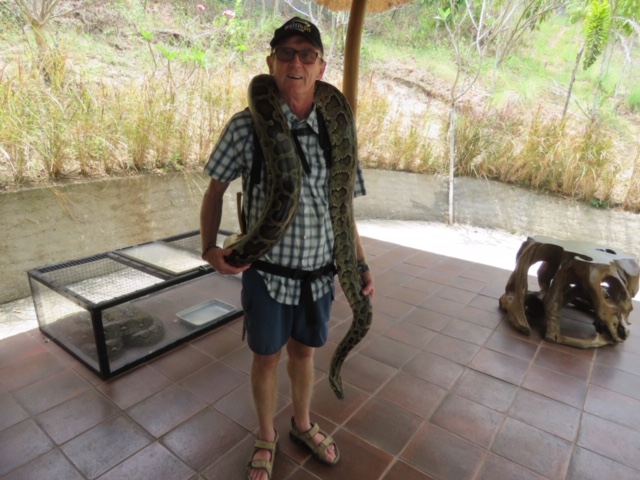 ... a python

Medana Bay has also provided an opportunity to experience a Lombok welcome and goodbye party with drums (local men) and local food cooked by local women with the usual ceremonial clothing and eating cross legged on the floor. We have eaten well in the "marina restaurant" and spent time with other rally members who we have not seen much of before. Once the World ARC left, there was plenty of room near the dinghy dock and we picked up a mooring buoy, being close to the dinghy dock is definitely a bonus with our 5hp outboard!

Tomorrow we are going on the first bird watching tour, which may be anything from a severe disappointment to amazing.

Alcedo

Sent from my iPad
---