10 June 2105, Onset Bay, Cape Cod. 41.44.096N 70.39.007W

Alcedo
David Batten
Wed 17 Jun 2015 22:55
10 June, 08.00 start from Newport to catch the tide to Onset on a bright and sunny, but guess what, cold morning. Had to navigate around a large area of static nets just east of the Newport entrance. The day did warm up and we had egg mayonnaise for lunch as we sailed goose winged up Buzzard's Bay towards Onset and the Cape Cod Canal, all very pleasant. The entry into the very narrow channel to Onset off the main drag was not pleasant, with a fast tide raging towards a down tide rock and with very little room for error, sails obviously down by this time. However, we made it and managed to navigate the narrow channel without going aground and dropped the hook in the preferred anchorage area off the marinas, not helped by the echo sounder, which has never been the most reliable, misbehaving at times.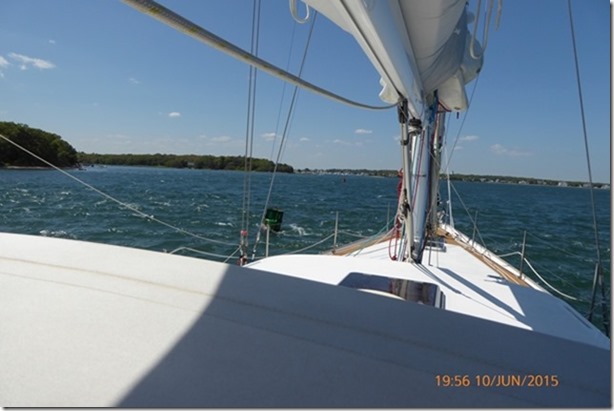 Hard to port around the port side channel marker.... ......to prevent being swept down on the main channel marker.
Onset Bay is a very pretty place, with lovely beaches, most of them private as usual, but town beach does extend from the town to the Yacht Club, (definitely members only), so landing by dinghy on the beach is fine and we had a very pleasant early evening walk up to the town. Anthony who had lost his passport had discovered from the launch driver in Newport that he could get a temporary passport from Boston, which could be reached by bus and train from Onset. So the next day he set off and the rest of the crew took the boat through the Cap Cod Canal and on to Plymouth, where we could all meet up.
The anchorage at Onset taken from the road to the village. On the public beach.
The only Loon we have seen so far. Another Osprey, but they are beautiful and difficult to photograph in flight.
It was the most beautiful evening, if somewhat windy and very chilly.
Alcedo
---