Tyrrel Bay, Carriacou. Friday 14/03/2014. 12.27.54N 61.29.08W

Alcedo
David Batten
Sat 15 Mar 2014 00:06
Thursday, 13/3/2014. The wind is still force 4 gusting 5, so we set off with just the genoa and make variable progress towards Hillsborough. Most yachts go straight to Tyrrel Bay, where you can now clear customs and, after doing a quick drive round the Hillsborough anchorage, we could see why. Not a lot of shelter, quite attractive, very few yachts but nothing to make the lack of shelter worth putting up with, so we motor on carefully through the shallows between Carriacou and Sandy Island, with only 2.0 meters under the keel at one point, round inside the Sisters and into Tyrrel Bay. We stick to the northern entrance which still has buoys to mark the reef and the channel, although the colours are hard to see and drop a hook South of the Ferry dock, we hope out of the way of the ferries. It is a very nice pew, well sheltered
The beach at the top of the anchorage at Tyrrel Bay, well sheltered and very pleasant. Alcedo from the dinghy, anchored in the bay.
We go ashore to clear customs at 12.10 to find they are closed for lunch, so have a wander around and then lunch ourselves at the Slip Anchor. Very good value. After clearing customs and immigration, during which we seem to provide the staff with much entertainment, we still don't know why, it was back to the boat for a siesta and then a dinghy trip to the Mangroves to bird watch.
The Mangrove swamp and the Smart Brown Pelican who was on one of the masts of the abandoned yacht in the mangroves.
We think this is a Whimbrel and we couldn't identify the other wader from the bird book we have.
Friday 14/03/2104. Our first real brochure day, sunshine after rain at dawn and the wind generator has at last stopped its constant howling, bliss. We think of family and friends who will be hard at work at Aldon, it being the first day of competition and hope the weather gods are smiling on them as well. After a successful visit to the sail repair workshop, In Stitches, to get a new zip on the bimini, we set off for Paradise Beach and lunch at Off The Hook. The photographs say it all.
Off the Hook, 2 beers and excellent snapper for lunch on a perfect sandy beach, with just a small scattering of people spread over a huge area.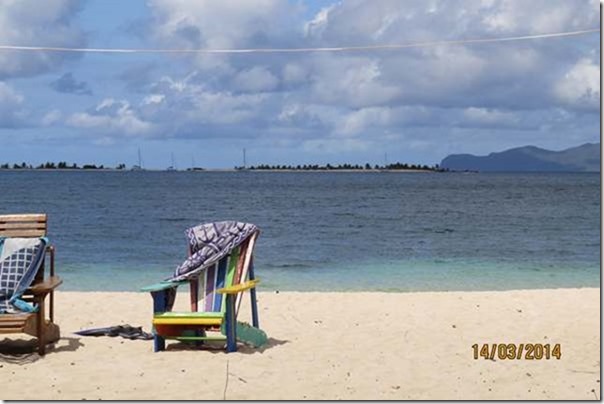 The View from Off the Hook, looking at Sandy Island and a land crab that we saw on the way home. They usually scuttle down their holes before you see them.
Tomorrow we are hoping it will stay calm so we can take the boat to Sandy Island and enjoy snorkelling there as it has a great reputation for diving and snorkelling.
Alcedo
---