Blog 3. 24 February 2020. Yacht Haven Marina. 08.10.27N 098.20.36E

Alcedo
David Batten
Sat 29 Feb 2020 10:09
Another motor sail in a very rough sea to Chalong Bay and another bumpy anchorage, with the wind offshore and the tide going out when we arrived there just before lunch. Anchoring anywhere near the customs and immigration pier is not practical in Chalong, with lots of mooring buoys, some mooring blocks left from broken government buoys and sand banks, so we were, as expected some distance from the pier. The outboard had had yet another strip down and clean and it did start, but fearing a long row if it failed to go, we set off to check in before lunch. Sure enough, about a third of the way there, the outboard died and refused to start again. Two thirds of the way there, a charming young Thai boy in a tatty dinghy with an old Yamaha took pity on us and came to give us a tow. Skipper's wife transferred to his dinghy, he pulls the start cord on his outboard to no avail. Skipper's wife back to our dinghy, we set off to row again, with reassurances from him that it will be fine, he will start it. He does, and kindly tows us in to a rather inaccessible part of the dock close to the customs building. No payment required, we thank him profusely and set off to the Yacht contact centre where we entered our details so that Immigration, customs etc could access them. More photocopies and paper work completed, including a form that we signed as being healthy and presumably free of Coronavirus, we set off to buy a SIM card from AIS as recommended by Time Bandit.

By this time, the wind was a bracing on shore 10 to 15 knots, the tide was coming in and there was no way we were going to make it back to the boat under oar power. What to do? What else but find a long tail taxi to tow us and the dinghy back, price not really very negotiable as we were obviously in no position to just walk away. With much laughter from the assembled drivers at our rather pathetic negotiations, a driver and very large boat were hired. The driver did earn much of his fee manoeuvring the long tail into the dock where we left the dinghy and we were expertly driven as fast as the dinghy would allow back to Alcedo.


The long tail driver negotiating the very difficult approach to dock the dinghy was pulled up on.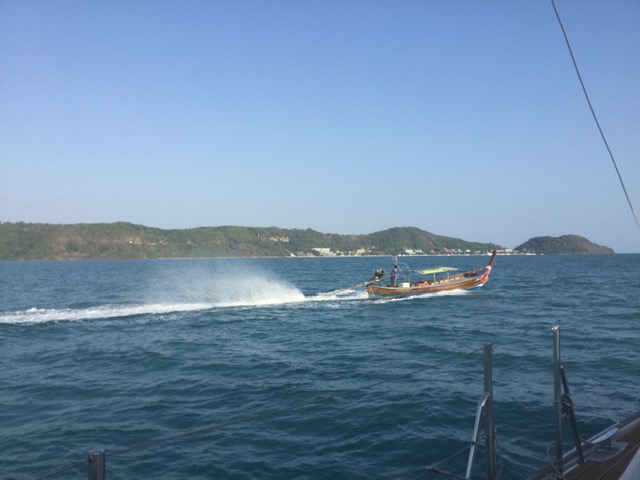 Safely back on board, we wave goodbye to our taxi as he races off to the island he was apparently delivering some batteries to

There is a much nicer area in Chalong that we moved to and anchored in, off the north east corner of the bay just visible in the photograph above. Here we found Florence, Top Spot, Tawarri II and Kia Ora and where we spent a relatively quiet night.

From Chalong, a motor sail beat out of Chalong, initially in strong winds and then an easy fetch to Ko Yao Yai in a moderating wind, some 26 miles north of Chalong, where we anchored in the northern part of the big central bay. One other yacht, no tourist traffic and lovely scenery, but a hell of a long row to the beach!







A small part of the beach at Ko Yao Yai, too far in the prevailing conditions to row, so we mended the wooden base for the runner block instead. A good job with epoxy and screws.

The wind has not been kind to date, as it was not a quiet night. In the north part of the bay, the wind came round the hills and blew from the south south east, increasing at night and creating an uncomfortable but safe chop. We tried the bay at the north east end of the island next morning and the wind immediately became north westerly and the swell seemed to come from the south west. As the beach was mud and there was no landing even from the kayak, we decided to move on to Ko Yai and Ko Hong, anchoring off Ko Hong just in time to buy some prawns for supper from a long tail fisherman. As with the Long Tail taxi, negotiations started with "how much you want to pay". Hopeless for us not having a clue where to start!



Anchored off Ko Hong on the left with Ko Yai on the right. A wonderfully peaceful anchorage with the tourists had gone



Inside the hong with the entrance close to being impassible at high water. The tourist guides had told us to "hurry, hurry". Definitely for canoes and kayaks only



Inside the hong, yet another hong. Well worth the visit.

Next stop, Phanak, where we failed to get to the hong, but saw some interesting wildlife from the beach.



Male Macaque on the beach, very annoyed at being threatened with an oar when he advanced rather aggressively



Lovely Rock Thrush, male, non breeding plumage

We will visit Phanak again, but first had a date in the Yacht Haven Marina. We need to find an outboard and go to a party, so after a night off Ko Wa Yai, we headed north up the long and at times, shallow channel to the marina.



The beach at Ko Wa Yai, a very lovely spot, kayak in foreground, Alcedo in the distance. This beach is one of many only accessible at near high water, but it is worth a visit and it is one of the few places with a good walk.

We arrived in the Yacht Haven Marina on the 24th late morning near high water, not one of our best efforts at efficient berthing as the dinghy leading us in disappeared and we had no idea which berth to aim for until the last minute. However, it is a very smart marina with good shelter from the seas and easy to access car hire, laundry, restaurants etc. No supermarket or store, so taxi or car hire required for any serious shopping.

Alcedo


Sent from my iPad
---