1 July 2015. Marion to Hadley Harbour to Newport. 41.28.77.N 71.19.57.W

Alcedo
David Batten
Tue 14 Jul 2015 23:44
29 June and another damp, cold, foggy and almost windless morning. Up and ready to depart by 7.00 am to ensure slack tide through the infamous Wood's Hole, with the visibility improving, Toodle-oo in front and Lily behind us. We had a trouble free run under motor through Wood's Hole and on to Marion and the Beverly Yacht Club, where we picked up a mooring again in the large mooring field in improving sunshine and increasing wind. After a pleasant walk ashore down to the harbour entrance and around through the back streets of Marion with its attractive houses, pretty gardens and, as we have found throughout New England, its wonderful trees with their lively bird populations. We will be very sad to see Anthony and Venetia go and as this was their last night it was great to have a thoroughly enjoyable evening in the friendly Beverly Yacht Club with J W and Jinny, from Over Budget and Ron and Ineke, from Lily. By the way, forgot to mention that Anthony walked from Menemsha to Bradley Harbour while the other 3 of us sailed her round. Not a great distance by Anthony's standard, but impressive for us normal mortals!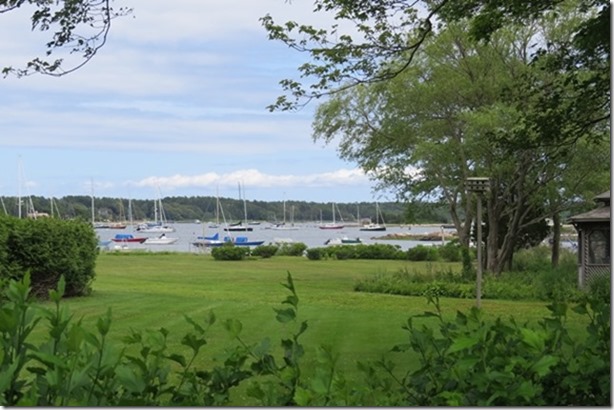 Beautiful Great Blue Heron seen when we walked around Marion. Very nice garden with a view of the anchorage
30 June. Said goodbye to the guests shortly after 8.00 am when the Yacht Club launch came to collect them and then we prepared to retrace our previous day's motor to Wood's Hole for a visit to Hadley Harbour which looked too good to miss. Another motoring job, it seems a bit like the Med this, no wind or lots of wind, most of it to windward whatever our direction, but that seems to be the norm for everyone. Someone must be having fair winds! Anyway, Hadley is gorgeous and definitely not to be missed. Small but deep enough for us, except for a shallow bank at the entrance requiring keel up at low water and apart from running over one of the mooring "balls" when trying to get out of the way of what passes for the local ferry, we had a wonderful afternoon and evening anchored in this peaceful hideaway whose only disadvantage is that it is all privately owned and there is only one small island to walk on. Oh, and the harbour master is young, male and good looking is very friendly, even after he has had to re-instate the mooring ball pick up.
Looking out at the entrance of Hadley Harbour to Wood's Hole and.. ..Alcedo anchored in the outer harbour
The Cormorant in the photo of Alcedo posed for us as we went by in the dinghy and.... ....the mooring field in the inner harbour Hadley
1 July and back to Newport for the next OCC event. Left Hadley at 7.30 am in fairly benign weather conditions only to sail into an unpleasant thunderstorm 2 hours later. Visibility was reduced to the bow of the boat only. Rain, lightening and winds clocking from all directions and speeds of 3 to 30 knots made for sharp focus on the radar and AIS. Luckily we had agreed to leave the two reefs already in the main until after the blackness approaching had passed and we motored slowly through the storm keeping our fingers crossed against a lightening strike or another vessel on our course. With the iPad and handheld GPS in the microwave and the laptop in the oven for back up, we only had one electrical issue i.e. the wind speed and direction, which settled on 0 knots from behind. Once we came out of the storm, we re-booted the system and phew, it returned to a more likely reading with no apparent damage. We would find it hard to navigate now without the "toys", not a good thing but they do make life much easier! We did have one other problem, which was the boat was only proceeding at 4 knots, even when the storm was over and we increased the engine revs. It felt as if she was carrying several extra tons of water, or was sailing through treacle, so the skipper tried putting her in reverse to see if it would free something off the props and out popped a lobster pot. Hope the contents managed to survive if it was inhabited and hope they didn't mind having a mobile home for a few miles. So, back to normal speed and the visibility improved and the wind got up and we had a fine reach into Newport with Alia Vita behind us having emerged from her night stop after the storm.
Getting into Newport was made much more exciting by the fact that the second and largest class of the trans-Atlantic racing boats were milling around getting ready to start. Making our way through them as they were going in all directions, never mind the normal traffic in and out of Newport, was pretty interesting and working out where to get the mainsail down without causing mayhem was a challenge not really enjoyed by the Skipper's wife.
Having successfully run the gauntlet of the entrance, we anchored in Newport in a somewhat tight, but OK space by Over Budget, from which the harbour master suggested we might move "if we were worried about dragging". Well, we weren't, but we translated that as American for "I really don't think this is a suitable spot for you, how about moving?" We re-anchored where he suggested and, apart from annoying a new neighbour who thought we were too close, we felt comfortable and happy that the harbour master was happy. After that, it was laundry, shopping and then off to the IYIS museum to see wooden boats, including Coronet, being restored. Then another evening of OCC members enjoying great company and good dining at the Brick Alley.
Tomorrow, we all set off for Bristol and the grand finale on July 4.
Alcedo
---