NZ Blog 8. Rotoroa. 36.49.26S 175.11.70E.

Alcedo
David Batten
Mon 20 Feb 2017 05:32
19 February. Southwest Bay, Rotoroa is our favourite anchorage to date. After a day and night of heavy rain, the weather cleared to allow for a wonderful morning walk round the southwest end of the island. The anchorage is in a lovely protected bay, the island, once private and a rehabilitation centre for alcoholics, is now accessible to the public. It is a younger version of Tiritiri Matangi, with replanted endemic shrubs and trees and re-introduced Kiwis, Takahe, Brown Teal (Pateke), Weka and Saddlebacks. No parrokeets or Kokako.
One rather cross, wet Weka trying to dry out after all the rain
David taking a 360 from the top of the southern end of Rotoroa. South West bay behind him and Waiheke in the background
Looking south west over the Waiheke channel, with Ponui Island on the left, Waiheke on the right and the mainland in the background
Another headland sculpture, at the southern end of the island, looking at Ruthe passage between Rotoroa and Ponui, mainland in the background
David and Kate at one of the lookout points
The day remained fair for the arrival of Tim and Ginny with Stuart and Susie Carnegie on Okahu Bay and Peter Hill and Linda on Oryx. By the time we had finished supper, it was raining cats and dogs again and Okahu's crew must have been soaked by the time they got back to the boat.
Linda arriving with pot luck supper and essential supplies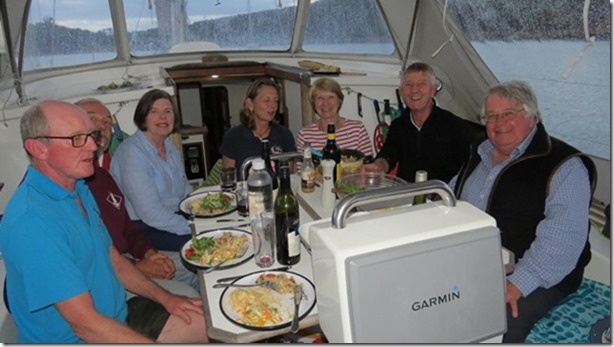 The mini RCC meet in Alcedo's cockpit with the "sit-outery" up as it is raining again!
Yesterday, the meet split up with the other two boats returning back to base and Alcedo motoring in very little wind but no rain to Matiatia to put Kate on a ferry to Aukland. After sad goodbyes, Kate boarded the ferry for a hotel in Aukland before joining her tour of the Northlands and South Island, while the Skipper and wife walked to Oneroa to do some stocking up before setting off for the Coromandel Peninsular.
As we both liked Rotoroa so much, we decided to return and have spent a very happy and beautiful day walking the north part of island, with the Takahe giving us a really great view of the whole family on the way up from the centre. Sorry Kate, you would have loved it, but here is just one of the photographs.
Family Takahe, three of only 300 in the world.
Alcedo
---