13/6/2015. Cape Cod Canal to Plymouth . 41.57.46N 70.39.57W

Alcedo
David Batten
Sat 20 Jun 2015 23:22
11 June. Ship's Boy took Anthony ashore for his trip to Boston in good time for a 07.30 bus, which failed to turn up, but luckily there was a local also waiting for the bus who advised him on what to do instead. Then the crew prepared for an 11.00 am departure to catch the tide through the Cape Cod Canal, the tide being in our favour from about 12.30. Unless you like motoring against up to 6 knots of tide, then the Cap Cod Canal is one of those places where studying the tide tables in advance is a must. We had a very pleasant, easy motor up the Canal and emerged to enjoy and equally pleasant, if still chilly sail up to Plymouth.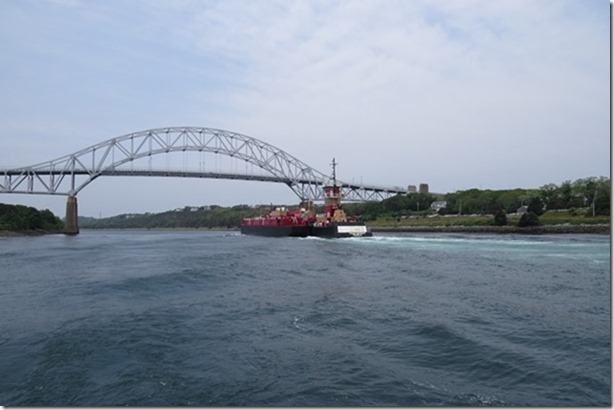 The west end entrance to the canal from the first bridge (railway bridge) A barge being pushed down the canal against the tide
The skipper and the Ship's Boy in the canal, well dressed up against the cold.
We had a pleasant sail to Plymouth, 20 miles North and west of the canal, with calm seas and sunshine, coats still on. The entrance to Plymouth is down another long channel with shallow water on either side with anchoring only in a large expanse of open water with little shelter, so we motored on into the marina where the marina boys very kindly made space for us on the outside pontoon. Anthony arrived by land as planned and we had an excellent meal ashore. The following morning, we made use of the laundry facilities, filled up with fuel and said goodbye to the helpful boys and set off for Cape Cod.
Sorry, no photographs of Plymouth.
Alcedo
---