Martinique, Sunday 19/1/2014 14.33.2 N 61.03.3W

Alcedo
David Batten
Sun 19 Jan 2014 23:53
Friday, 17/1/2014. Up in good time to do a quick shop at the market. Really excellent, with good choice of good quality at very low prices. Avocados 1 EC each, mangos 2 EC each and temptation to buy lots is almost irresistible, but with only 2 of us, they will go off before we can eat them, so resist we did. Also managed to find a basket for the shoes, in a vain attempt to keep the decks cleaner and tidier! Then left the calm of Roseau and the unspoilt coastline of Dominica for the force 5 that materialised as soon as we approached Scott's head at the southern end of Dominica.
Leaving Dominica in the calm seas just South of Roseau
A sample of Dominica's unspoilt coastline.
With 2 reefs in the main and a couple of rolls in the genoa, we had a uncomfortable sail to Martinique with a blustery wind just off the nose for most of the time and the usual inter-island seas. However, we made good time and it was a fetch to the Fort de France at the northern end of the Baie de Fort de France and anchored off Fort Josephine in time for tea. With its built up coastline and large town Martinique is quite a contrast to Dominica.
The anchorage off Fort Josephine
The view of Fort de France from the anchorage.
The view across the bay, very nice American yacht providing foreground interest!
Saturday, 18/1/2014. Very lazy day. Shopping, including disappointing Carrefour so did not do much provisioning and very good market again, but significantly more expensive than Dominica as one would expect. Mind boggling opportunities for retail therapy, from very expensive chic French to poor cousins of Primark. Afternoon chilling and, for first time since leaving the Canaries, a siesta. The wind, which is very diligent in its attention to yachts and yachting, has made us both feel very tired today.
Sunday, 19/1/2014. Most important event today was news of the arrival of Claire and Dan's baby via email from Tessa. Great news and many congratulations all round. We leave Fort de France after an email session and head for Les Trois Islets, which looks fairly idyllic, but the wind is a good force 5, sometimes 6 from the East and it is shallow and not well sheltered, so we head for Anse Martin instead. Quite an eventful few miles, with just touching the mud off one of the islets, the echo sounder going on strike as we get into deeper water and the port engine turning itself off again as the fuel filter is leaking again. We are definitely going to buy another brand of fuel filter when we can and a cheap and cheerful echo sounder that does not have a passion for defaulting to 3 meters! Anse Martin is quite crowded and very windy, but there is a good chunk of land between us and where the wind is coming from, so we anchor for the night. Xar and Jade, both ARC participants. come to join the throng, but we did not really meet them and we only exchange a few remarks about the crossing with Xar's owner.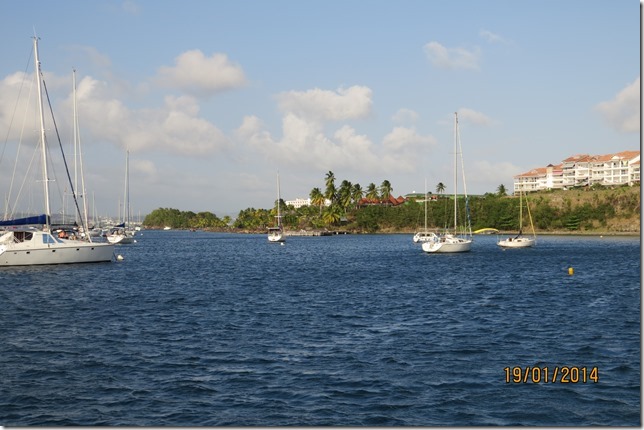 The Anchorage at Anse Martin looking North East.
Tomorrow, all being well, we plan to go round the corner to Anse D'Arlet.
Alcedo
---