NZ Blog 6a. Islington Bay. 36.47.24S 174.53.87E

Alcedo
David Batten
Mon 13 Feb 2017 08:39
13 Feb 2017. In the end we stayed in Gulf Harbour Marina for another day, as the wind did not really start moderating until well into the afternoon of the 9th Feb and there did not seem much point in leaving while the sea was still rougher than desirable for a non sailing member of crew. Following a calm night there was, of course, very little wind so we motored to Woody Bay, Rakino Island, a lovely spot with good walking from the head of the bay around the cliffs.
Welcoming notice board on Rakino Island, similar to many on the islands in the Hauraki Gulf
View of Woody Bay from the cliffs above. As usual with these bays, we have to anchor quite well out because they are all shallow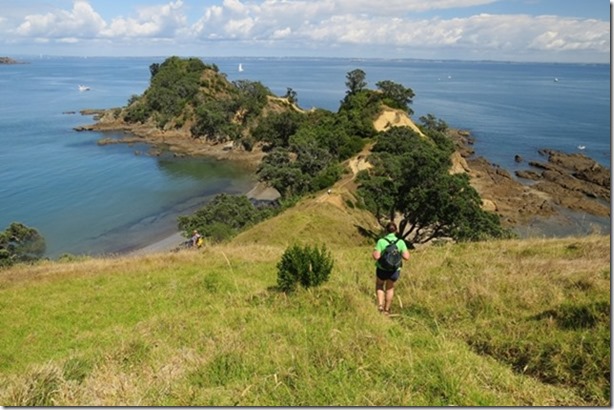 Coming down the cliff path between Woody Bay and West Bay, the Skipper disappearing well ahead as usual
As Woody Bay is exposed to the West and South West, we moved in the afternoon to Islington Bay, a long narrow bay between Rangitoto and Motutapu Islands, for better shelter and then again, next morning to Takutairaroa Bay on Motuihe Island as the wind became more southerly. What a fantastic beach and nature reserve, where they have got rid of all the predators and re-introduced the Kiwis. We saw Orcas as we approached the Bay and managed to arrive just as a cruise ship was collecting up its passengers to leave. The beach was very busy on this fine Saturday, but the walking to the replanted nature reserve was lovely and without seeing another person once away from the beach.
Takutairaroa Bay beach, western end from the cliff above.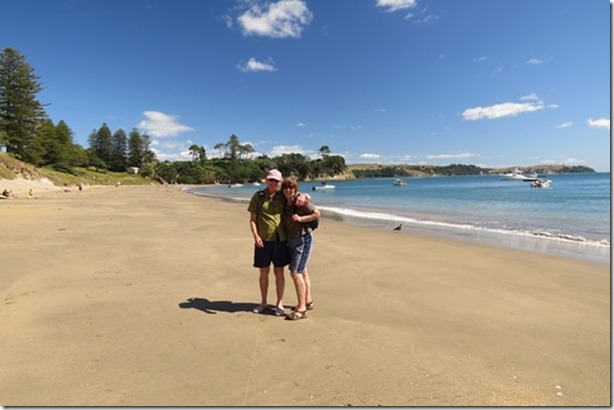 David and Kate posing on the beach
Kate and Skipper's wife enjoy perfect viewing of a male Saddleback
After a peaceful night, the wind shifted to more west and then north west, so it was back to Islington Bay to explore there.
Alcedo
---