Bequia, 29/03/2014. 13.00.48N 61.14.39W

Alcedo
David Batten
Thu 3 Apr 2014 12:38
Thursday, 27/03/2014. We upped anchor and left Tyrrel Bay prepared to beat to either Canouan or Bequia and, as luck would have it, had a great sail just off the wind to Bequia in bright sunshine.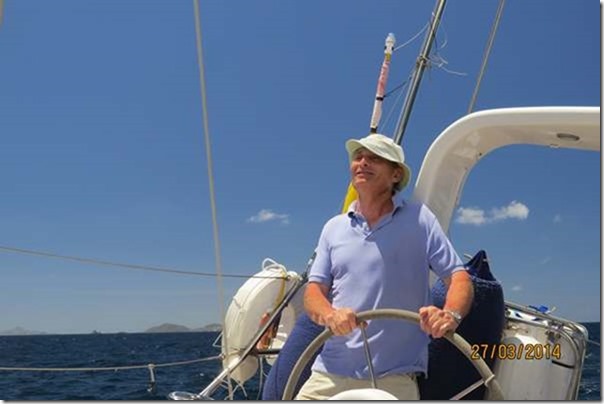 Anthony enjoying a spell on helm while Venetia and Tessa find some shade on the deck.
Thought we had picked up one of Phat Shag's moorings in Admiralty Bay but later discovered it was one of African's, who assured us that he had checked it last week. Who knows! Also in Admiralty Bay were the Quaddies and the Lytles and the Craig-Woods. We arranged a 6 o'clock drink for the following day and snorkelled off the point between Tony Gibbons and the nearest beach. Great fish, lots of squid, an eel and sea urchin shells.
Friday, 28/03/2014. Domestic morning to prepare the boat for the evening visitors and then Anthony was sent walking while the rest of us visited the market and all the shops selling shirts and dresses. Venetia was a great hit with the market sellers,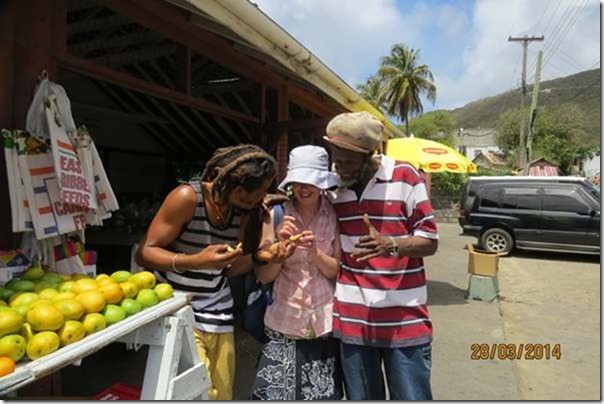 Venetia with the market sellers.
After a very murky snorkel, we entertained Adrian and Christine from Quadrille, John and Christine from Oriole (RCC) and Peter and Veronica from Moonshine (RCC). A very good evening.
Saturday 29/03/2014. A real holiday day. We walked to the Firefly and enjoyed a wonderful tour around the garden and then rum punch, Barracuda, Lion Fish and Conch Curry for lunch. All feeling very mellow after a really good lunch and one too many punches.
Getting coconut milk out of the coconuts and who wants some Aloe Vera, well we all try it!
Extracting sugar from sugar cane and the staff at Firefly mixing the drinks.
David and Anthony enjoying a relaxed aperitif before lunch at the Firefly.
After lunch, we walked on to the Turtle Farm, which was closed as we suspected it would be, but the walk was lovely and we arrived back at the harbour just in time to buy some very cheap crayfish ($15EC per pound) from a fisherman who clearly wanted to get home!
The beach by the Turtle Farm looking East and choosing crayfish from the Fisherman in Admiralty Bay.
Checking the weight of the crayfish and some of the local boys making good use of an old ferry as a diving platform.
Another epic meal with Skipper's wife and Anthony perfecting their killing and cooking technique. No more crayfish now until we can get it for less than $15EC. Tomorrow, we plan to go South after another visit to the market.
Alcedo.
---