Blog 5. 9March. Glentunnel to Aoraki/Mount Cook

Alcedo
David Batten
Sun 11 Mar 2018 20:28
We left Whitecliffs to rejoin Route 72 with it still too dark and dull for photographs, joining Route 79 and then the much busier Route 8. With Driver 1 in Silverstone mode, we arrived on the shores of Lake Takapo in sunshine just before lunch and had the first taste of a glacial lake.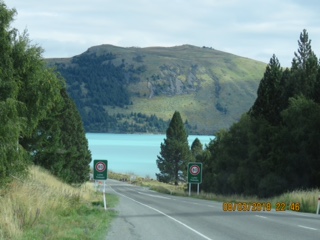 Amazing colours and an amazing number of tourists, so we went on to Lake Pukaki for a quick lunch and a photograph at the viewing stop




The view, Lake Pukaki with what should have been a beautiful first picture of Mount Cook at the far end, but obscured by cloud.

After a swop to driver 2 and a more sedate pace, driving up the west side of Lake Pukaki, and beyond along the glacial plain chiselled out by the Tasman Glacier, now receding and much reduced.




Camping is at the very popular DOC campsite beyond the Aoraki/Mount Cook village, another tourist hotspot, but it offers lovely walks including one across 3 swing bridges up the Hooker Valley.




The Hooker Valley

Tomorrow, the weather promises to be fine, so we take the plunge and book a trip for helicopter and sea/snow plane flight and landing up the Tasman Glacier towards Mount Cook, with a landing on the glacier.

Alcedo

Sent from my iPad
---