Bog 46. Tifu continued, 4 - 7 August

Alcedo
David Batten
Mon 19 Aug 2019 12:20
5.00am Tuesday 6th August and a long drive up to the country in the cloud to enjoy the sunrise and visit the remote village of Fakal. Lots of cloud and no sunrise and a very uncomfortable journey in the back of a pick up for some.



The road out of Tifu, taken on a sunny afternoon.

The road did not get any better after leaving Tifu and by the time we were approaching Fakal it was raining, so the dirt track was slippery as well as rough and we had to walk the last 2.5 km in the rain.



The start of our welcome ceremony in Fikal, wet and also cold for these unlucky children who had obviously been waiting some time for us to arrive.

After cakes, carrot juice, coffee, dancing, a walk around the village and the purchase of some carrots straight from the garden, we left Fakal, wet and muddy, and set off for Mngeswaen, the only village we have not felt welcome in. Lunch, brought in for the occasion, was served in a tent after a walk round the village after which we left for Waekatin, none too soon as far as we were concerned.



Women washing clothes in the river in Mngeswaen, joined by a rally member keen to wash his feet and shoes after the walk to and from Fakal.



Sorry sight, to the Skipper's wife at any rate, of one of the local red lorikeets captured for sale. This one was lucky, bought by a Rally family that planned to set it free or at least look after it properly. Some were clearly distressed, although they are said to tolerate captivity well, make good pets and breed easily.

From Fakal to Waekatin and a village where they catch tiny fish by singing to them. Yes, by singing to them and dangling a twig with a worm on the end of it. No hook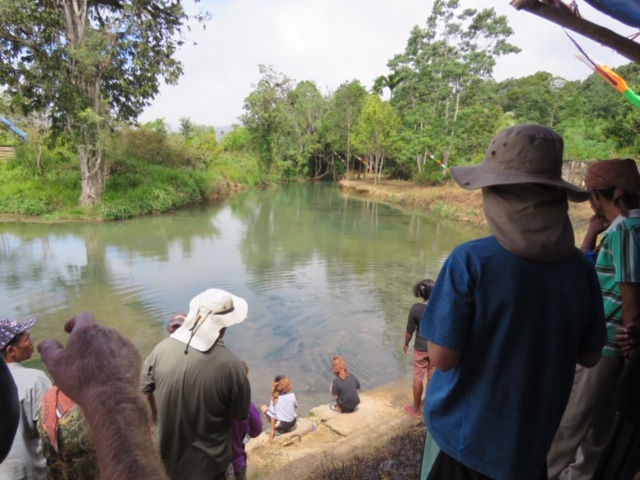 Singing to the fish on the key side. Entertainment for children only and huge cheers if a fish was landed.



The logging camp where our driver for the day worked, which we visited en route. Legal or illegal, we were never quite sure.



So denuded of trees, there is just coarse grass and wild pig. I am assured by an Indonesian students that it was never forested, due to the "topography" of the land. Strange that there were trees over much of the same sort of land as you can see in the background.

After tea and cakes at Waekatin we had a long drive back. A very tired and some very sore, group of people arrived back in Tifu in the early evening feeling they had done more than their duty to Wonderful Sail Indonesia.

Alcedo.
Sent from my iPad
---