Blog 8. Sunday 12 May. New Caledonia. 22.16.61S 166.26.39E

Alcedo
David Batten
Sun 12 May 2019 21:32
6 days since we arrived in Noumea, where did the time go?

First of all, we needn't have worried about what we brought in from New Zealand. The Skipper went to Customs on arrival, who never questioned what booze we had on board.
Wednesday was a public holiday and the lovely lady from Quarantine/Biosecurity was in a very happy mood and allowed us to keep all our New Zealand products which, of course, we had been very careful to make sure were minimal. Damn! The Skipper went to Immigration on Thursday as instructed with all the passports, by which time we had visited the market and explored the immediate vicinity of the town.

The market, which is very close to the marina, is excellent but not cheap, but then New Caledonia is expensive, very expensive, as we were warned.

The ATMs are very available and easy to use, but generally only have 5000 notes. The patisseries are very French and bad for the figure and the local Carrefour is exactly what you expect, except there is no fresh milk to be had anywhere. The marina is very sheltered but the visitor's pontoon is a bit of an illusion, being mainly full of local boats and short on space. We have been lucky to stay as long as we have. It is also not very fragrant, with a large pipe discharging something very dubious by the entrance gate to our pontoon.

Laundry is expensive or a good hike, so we have done what seemed like a zillion washes on the boat.





Alcedo festooned in laundry in the marina at Noumea

2 days later and still 2 or 3 washes to go, it seems never ending but we have had a break, hiring a car on Friday and yesterday to see a bit of inland New Caledonia and, of course, go bird watching.


Inland New Caledonia, view from the road going up to Rivière Bleue

The Parc Provisional de la Rivière Bleue provided a really great day out. Easy walking, lovely staff, panoramic views and some fabulous birds, including the very attractive Kagus (or Cagous), the national bird of New Cal.



Lac Yate in the Parc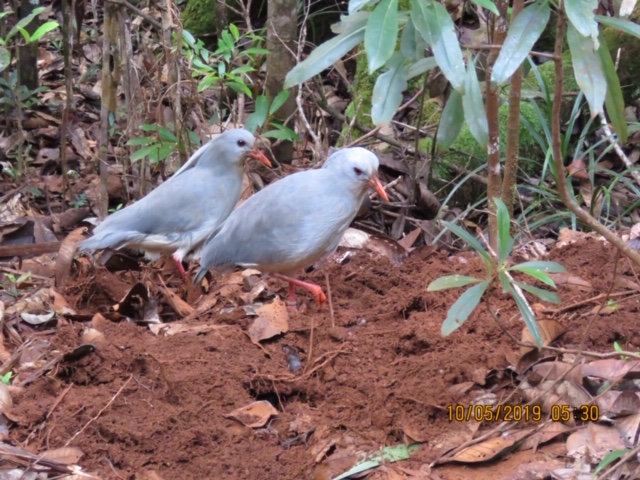 The very attractive Kagu

Yesterday we went up to Mont Koghis and had a more challenging walk in the forest to the inevitable cascade. Not many birds, but good exercise and great views. New Caledonia is beautiful, but the mountains are scarred by the nickel mines and there is evidence of mining activity everywhere.



More challenging walking up Monts Koghis

After this very strenuous exercise, we had a gentle stroll through the zoological gardens in Noumea, which gave us the opportunity to see some very exotic birds which we would never see otherwise. Sadly all in cages, but at least they are breeding some of the more endangered species and releasing them in the wild in national parks like Rivière Bleue.

We have been completely caught out by the licensing laws in New Cal. No alcohol available in the supermarkets from Wednesday 12.00pm to Monday am and not at any time during elections and public holidays. Guess what, there was an election this weekend, so we could not use the car for stocking up for the next couple of weeks as planned, so had to be content with stocking up on long life milk and fruit juice. Plus a large quantity of very expensive chocolate, but you will need to read the Ship's Boy's blog for details.

Tomorrow we plan to explore some of the anchorages south of Noumea where there is very unlikely to be any internet, so it may be some time before the blog is updated again.

Alcedo

Sent from my iPad
---