Blog 78. 2 Nov 2019. Abang Island Anchorage. 00.34.061N 104.13.606E

Alcedo
David Batten
Wed 6 Nov 2019 08:27
When we arrived and anchored off the Kepri Coral resort on Pengelap, the yachts whose crews had already been ashore were up anchoring and leaving. It transpired that the very loud session of karaoke ashore was not compensated for by the attractiveness of the resort and as we had no official program until the following day, they were going somewhere more appealing to anchor. After a particularly painful rendering of an unrecognisable song, we decided to join them and set off for Rohan Island, off Abang Kecil and Besar.



The somewhat unusual accommodation offered in Kepri Coral, igloos with bunk beds, shower and air con.

The anchorage between Rohan, Pasir Buluh and Abang Besar and Kecil was very attractive, with good depths, we anchored in 12m, but a strong tidal flow. There is some but not much coral, most of it in the shallow water off the beach in front of the Rohan Island Resort, a very tasteful and peaceful place much more to our taste than Kepri Coral. After a prolonged sundowner on Time Bandit with all other boats in the anchorage, the following day started with breakfast with Stuart and Anne and Carl from CV, to celebrate Stuart's birthday and ended with dinner at the resort, also to celebrate Stuart's birthday. Much to our disappointment, Stuart did not use the orange hair dye we gave him, as chosen by the Ship's Boy, but it was a great party.



1st November and Stuart, 6* today, welcoming visitors for breakfast, anchored with Rohan island to the right of the picture and a tiny island off Abang Besar to the left of the picture, Sharon and Nick from Cheeta paddling by in the background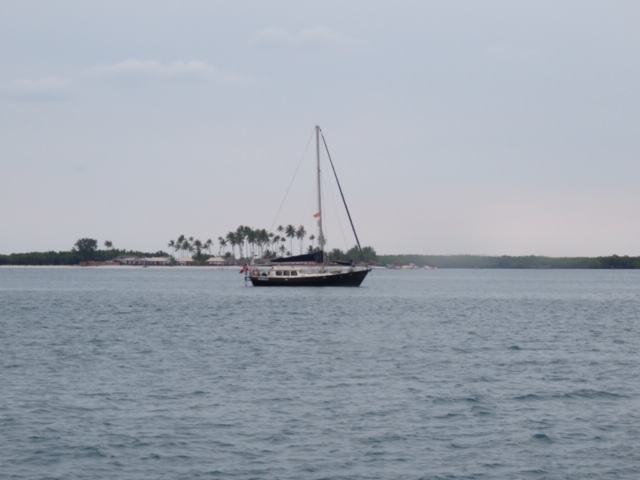 Morild anchored off the Rohan Island Resort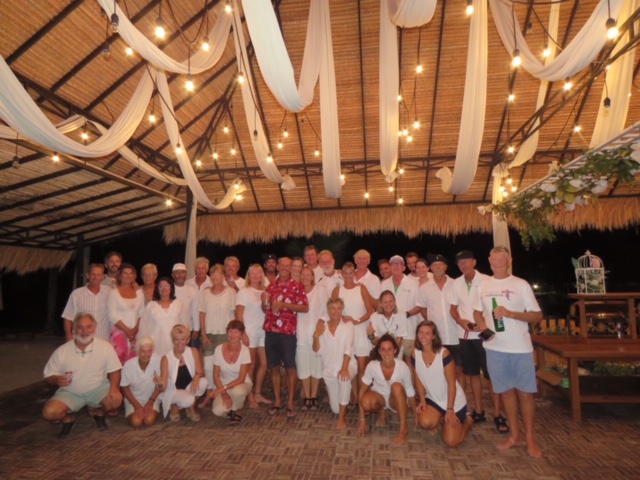 Fleet photograph at the Rohan Island Resort, birthday boy in the middle, most of us in white, Karen of Entice's idea so that Stuart stood out


Portrait of Stuart done by Patricia of Marie Claire from a photograph. There is much talent among the rally members. With Patricia and Stuart, from L to R, Imma from Tuvalu, Pedro and his son, guests on Talulah Ruby, Nick and Sharon, Cheeta, Pauline behind and between them and Ship's Boy



Alcedo leaving Rohan to return to Kepri Coral in the early morning, taken by John on Windancer.


Sent from my iP
---