Blog 64. 29 September. Lovina cont. 08.09.64S 115.01.227EE

Alcedo
David Batten
Wed 2 Oct 2019 12:26
Our day tour of Lovina. A Hindu temple set in a sort of Disney world park, forest monkeys, coffee plantation, rice fields (only in passing), a decent lunch, a botanical garden that was more like a forest with statues and the odd building, an excellent local market and a very impressive Bhuddist temple not far from Lovina. Then a trip to a supermarket, super expensive but selling more European products like cheese and Greek yoghurt, hard to find in Indonesia. Oh, and some very decent chocolate, we should have bought more!




Hindu temple in Disney world garden. The main temple was not as impressive as many we have seen on the roadside.




Forest monkeys on the side of the main road, waiting for the tourists to come with bananas and biscuits. Just out of site on the right of the picture is one of them trying to get a banana out of Zehra's pocket. She and Hasan, her husband are on Kandiba and come from Turkey.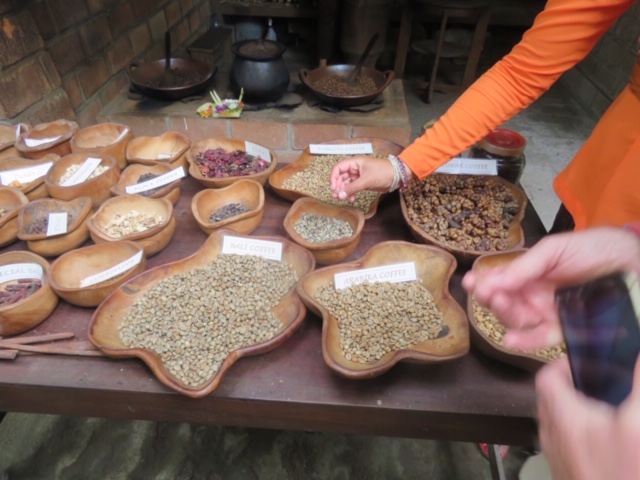 Coffee plantation products, showing beans before roasting. Note the Luwark beans, top right. These have been eaten by a Luwark, a civet that picks the best beans and digests the pulp and poops out the actual bean. After thorough washing, these are used to make the most expensive coffee, retailing at about £5.00 per 100gr




A walk in the Botanical garden




One of the many statues in the garden




The Bhuddist temple, our last and most impressive tourist attraction, just one of the temple structures...




...and inside the temple

Apart from sight seeing, we have done some retail therapy, several visits to the ATM, eaten out every night and spent time socialising with other Rally members. The only unsatisfactory aspect of Lovina is the hike up the beach to get the dinghy out of the tide. Failure to do so one day resulted in an upside down fuel tank, loads of sand in the dinghy and an air leak. Last day in Lovina was pretty rough, with the wind in the North and quite a sea coming straight into the anchorage, making dinghy trips to the shore distinctly unappealing. We spent the day sorting out the dinghy, fitting the new winch control box kindly brought out to us by Huw and Pat, new guests for Time Bandit and getting the boat ready for the sail north to Bawean, some 215 nm away and involving at least one night at sea. We have enjoyed Lovina beach but it will be a relief to get away from the wind and the ghetto blasters which have barely taken anytime off while we have been here because of the Festival.

Alcedo

Sent from my iPad
---