Blog 11. 23 March 2020. The Waiting Game. Chalong. 07.48.85N 098.22.91E

Alcedo
David Batten
Mon 23 Mar 2020 13:00

It has been a long 5 days and it feels much more. Not only have we booked back into Thailand, done some more shopping and prepared ourselves for sitting it out until we have a better steer, but we have now booked Alcedo a pew in the Boat Lagoon and ourselves some seats on an flight to London via Abu Dhabi. The only place near here that we can leave Alcedo on dry land is the Boat Lagoon, which has an impossibly shallow entrance channel, but two big travel hoists and room on the land but not in the Marina. So we have arranged for the pilot boat to meet us at the entrance to the channel on the 26 March, the first date they could give us, spring tides, for a straight in and on to the land. We have booked ourselves onto a flight out of Phuket with Etihad Airlines to London Heathrow on the first of April. It seems appropriate to choose April Fool's day as only a fool would think that we will get the flight we book on the day we book, whatever day that is.
Having done that, we decided to take 24 hours out and go to Ko Racha, or Ko Raya as the Thais call it, for a change of scene. Supposedly great snorkelling and a very nice place. The snorkelling was OK but not great, with not much variety of coral and a surprising number of tripper boats considering how few there have been elsewhere. The main resort is lovely and clearly reassuringly expensive, we had dinner in the Sunset Restaurant after a good walk to the view point.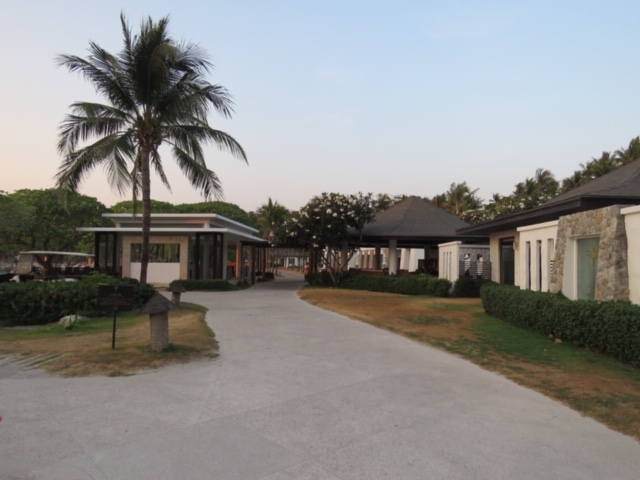 The resort at Ko Racha..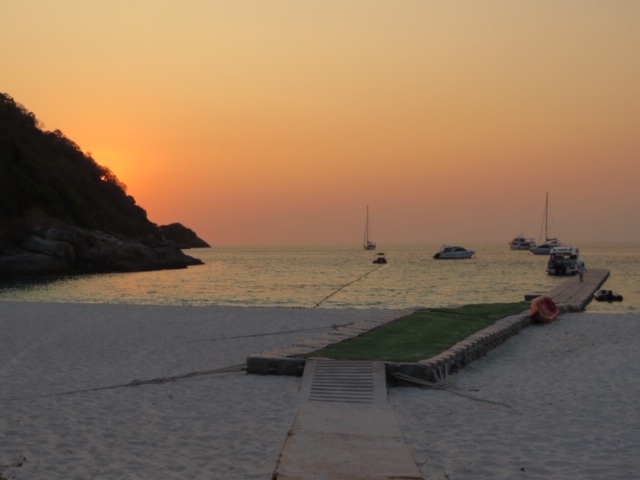 The evening view from the Sunset Restaurant
Then back to Chalong to start putting the boat to bed and to practice Social Distancing
Social distancing on the beach at Chalong, not too difficult to achieve!
The only yacht it in the area we know is Top Spot and we have spent some fun time with them, but now we are on different time tables and keen to get home although, heaven knows, Thailand is probably as good a place to wait for the world to return to some form of normality. The desire to be at home and with family is strong and we hoping the next week brings that opportunity.
---