New Zealand Blog 2. Sat 28 Jan. 36.25.46S 174.49.92E

Alcedo
David Batten
Sat 28 Jan 2017 06:28
The locals tell us that it has been an usually cold summer here until about 2 days ago, when the sun started to shine in earnest. We launched the boat on the 17th as planned and spent another week at the Pacific Gateway Marina, a smart name for two pontoons joined to the river side of the Port Whangerei docks by a floating gangway, a very convenient place for commissioning while having the use of the courtesy car for shopping. This included an expensive trip to Opua to collect the vang, which we left with Northland Spars and Rigging for repair and 36 metres of 12mm Dynema to replace the runner tails which had been chewed up (again) by the Antel jammers. The rigger who repaired the vang really impressed us and we left with 2 new Lewmar clutches as well that he assured us would save the runner tails from another chewing. We will have to go more miles than we plan to this season to see if he is right!
Alcedo in Pacific Gateway Marina... .....where we had only common pied shags for company.
So after nearly 2 weeks of cloudy, windy and cold weather, another great supper with Kate and Steve and a surprise meeting with Michelle and Alex of Jade, last seen in the Caribbean in 2014, plus all the shopping and stowing and cleaning, we set off on Wednesday morning to motor all the way down the river to Marsden Point. Cloudy but very little wind in the morning and a very much better trip than we had coming the other way last August. We anchored between the pier and the marina entrance which gave us some shelter from the south westerly blow forecast for later and for entertainment, took the dinghy into the Marina. Very posh and part of a huge housing and boating development.
Thursday we had a great reach, 50 degrees or so off the nose and Alcedo revelling in a flat sea and 15 to 20 knots, making 8 or 9 knots across Bream Bay towards our destination, Kawau Island. Needless to say, we were headed as we approached Cape Rodney and the wind started to really mess about with anything from 7 to 17 knots from SSW to SSE. However, once past the Cape and across Omaha Bay, we were able to turn West and enjoy a good sail through the channel between Kawau and the mainland before motoring dead to windward to Bon Accord Harbour. We elected to go to Mansion House Bay as recommended and it is a lovely bay, well sheltered from the southerlies, if somewhat popular. Unlike Whangerei, we have seen plenty of yachts in this area and all anchorages are well occupied.
Mansion House Bay from the sea.... .....and from the veranda of Mansion House
Since setting off from Marsden, summer seems to have arrived and we had a lovely sunny day yesterday walking from and around Mansion House and we are now all of two bays up Bon Accord Harbour in School House Bay, where there is a bit more room and it has been warm enough out of the wind to give a bikini an airing. It is still too cold to tempt us to participate in sea bathing, although some of the hardier locals have been indulging. The plan tomorrow is to go a little further south and see if we can find somewhere suitably sheltered in Mahuranghi Harbour.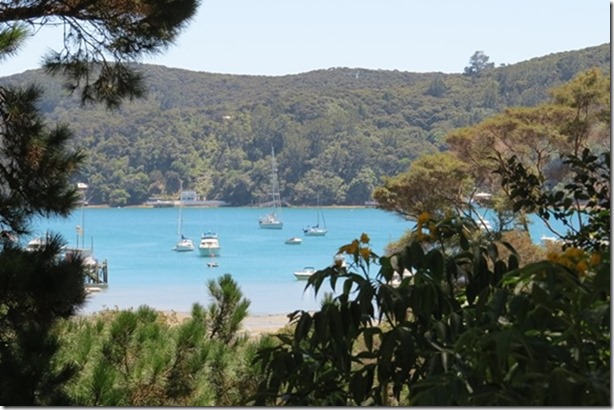 Walk from Mansion House, trees all fell during a big storm School House Bay
Alcedo
---