Fw: March 15, 2015. Culebra, Spanish Virgin Islands.18.17.64N 65.17.10W

Alcedo
David Batten
Tue 17 Mar 2015 02:12
Somewhat behind with the blog, but getting an internet connection has been a problem.
9 March was a day for laundry, commissioning the water maker and generally cleaning up the boat and sitting in a bar, only really to use the Wifi of course! It was a bright sunny day, with lots of wind but Marina Cay gives good shelter and we also managed to fit in some snorkelling.
Walking around Marina Cay
10 March and an early start to do the 10 miles to Great Harbour Bay, St Peter Island which is meant to be good shelter and holding. Wind actually howls through the gap in the hills, but the holding is good and we had a very good snorkel in the afternoon when the sun obliged, seeing 2 very large Southern Rays and lots of other big fish, with plenty of variety. Still lots of wind and squally showers.
The Skipper at work at the sharp end, Great Harbour Bay, St Peter's Island.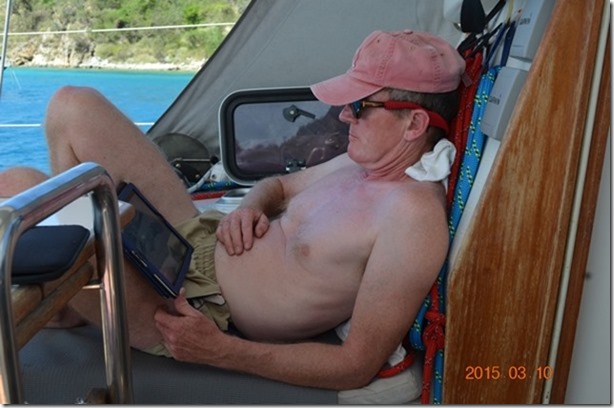 And afterwards, relaxing at the back end.
11 March and again, a relatively early start after a noisy, windy night. Still gusting 20 to 25 knots from the east in the squalls, so a brisk sail to The Bight, Norman Island. This is a lovely, sheltered anchorage, well actually, it is so crowded with mooring buoys that anchoring is only possible near the entrance. By late afternoon, every buoy was occupied, but the snorkelling is great, the water clear and calm and the buoys well maintained with a standard fee of $30 per night for using one.
View of The Bight, North side, from the hill above.
12 March – a red letter day. Calm, sunny with a pleasant amount of wind and a lovely uninhabited Island (not counting the restaurant on the beach) with good tracks for walking on and interesting coral to snorkel over, just what we came for! Plus a slightly pricey but very good dinner at the beach restaurant as we were low on supplies to round off a perfect day.
The beach and the restaurant at the end of the Bight
13 March and we must move on, so another brisk sail to Soper's Hole at the West end of Tortola Island we can book out of the BVIs. Also a very nice bay where anchoring is almost impossible, but we were lucky and found a empty mooring buoy. After unsuccessfully trying to buy a sim card that covers the Virgin Islands and Puerto Rica, so that we can have internet access again via the dongle on board, we return to the dinghy dock to find Manfred of Yacht Azzura, who did the ARC and the EMYR the same years as us and who we last saw in Dominica in 2014. We had a really pleasant evening drink on board Alcedo with him and his wife. They have been in the BVIs since last year and Azzura will be heading back to the Med in May.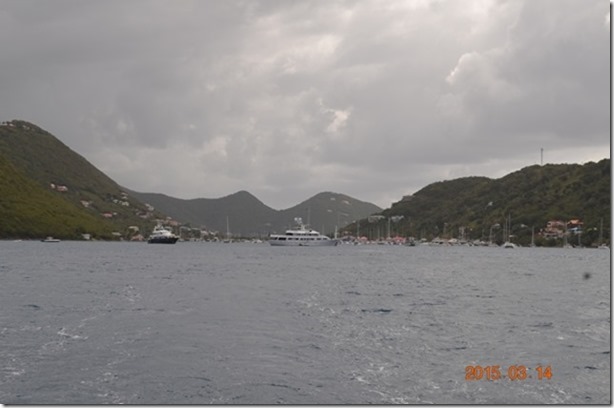 Leaving Soper's Hole, Tortola
14 March. Still blowing quite hard in the rainy squalls, but there are signs it might be moderating. We had a good sail to St John's Island but there were no mooring buoys in Caneel Bay, where we could dinghy to Cruz Bay to check in and Cruz Bay was shallow, crowded and completely unsuitable for Alcedo, so we continued to Charlotte Amalie, St Thomas' Island. Lots of room there, with good holding, although getting ashore was the usual wet, rough dinghy ride with lots of complaints from the Skipper's wife who was dressed for Immigration and town shopping. However, very successful shore trip, checked in (just to be really confusing, there is no checking out procedure for the USA Virgin Islands), bought the skipper some nice short sleeved shirts, found a sim card that enables the iPad to connect to the internet and act as a local hotspot for the computer and some very good shopping in the huge supermarket at the South East end of the town, with a fun local bus ride back to the dinghy. The only issue now is the shortage of chocolate, as the Americans appear to like rather nasty milk chocolate only, so supplies are getting perilously low!
15 March. The wind has definitely moderated and this morning was bright and sunny. We set sail for Culebra with a following wind and initially fairly calm sea, although it became quite rough on the approach to Culebra. We had 2 other yachts for company, who both went North of Sailor's rock, while we went South, but it didn't really seem to make much difference. We managed to follow the rather hazardous entrance channel without mishap and are now anchored in Ensenada Fulladosa, just off the main drag, i.e Ensenada Honda, up to Dewey. It is a really beautiful bay with more yachts than we expected, but it is very quiet and peaceful, apart from the wretched wind generator, which has just started moaning away again as the wind has picked up a bit this evening. Tomorrow we will visit Dewey and try and sort out what sort of a permit we need for cruising in the Spanish VIs and Puerto Rica, as Immigration Officer at Charlotte Amalie was not overly helpful on the subject.
View across Ensenada Honda from the anchorage at Fulladosa, Culebra Island.
Alcedo
---