Rodney Bay Marina, 2 February 2014 38.00.03 N, 105.60.00 W.

Alcedo
David Batten
Mon 3 Feb 2014 13:24
After our lovely day on Pigeon Island, we did manage to get a berth in the Marina by dint of pestering them on Chanel 26 until they found us one, not alas on J pontoon, but E27, which meant the keel had to come up and we had to reverse in downwind, all very exciting but achieved with the help of 2 of the Marina staff and without damage to topsides or pride. Whew! We have been here a week now and it has flown by with not much to show for it except some cabin lights, a fan and polished steel. The bits that can't be seen, like all the diesel out of the inaccessible bilges and new paint to mark the 10 fathom marks on the anchor chain to make up for the fact that the Lewmar sensor on the anchor control has decided to go on strike are, perhaps, more important but less obvious.
Apart from that, we have been socialising, a lot. We have only made one happy hour as they start at 5.00 pm and we can't quite get into the swing of having the first rum punch or beer at that time. It has been great catching up with some of the ARC crowd, but they are gradually dispersing and the Marina is becoming less busy as the week progresses. We have met up with Tim and Maria and at last been aboard the famous Mina2, now officially recognised by the RCC as
an

Expedition and Exploration Vessel. We have had an exciting lunchtime expedition to Pigeon Island with Tim, Maria and Caroline and Richard on board, which included a marital between the Skipper and his wife as the Skipper wanted to anchor on the beach as the keel was up and his wife did not. The anchor appeared to be well dug in as the boat was brought up to a very sharp halt, but it transpired that the anchor chain was wrapped around a barrel with spikes, which the Skipper cleverly managed to free, the water being so shallow. Once freed, the anchor then dragged, just as lunch was on the table, so there was much rushing around as we reversed rapidly towards the small yacht behind us. The situation was retrieved without any contact between yachts and we anchored in much deeper water without further mishap. We did get back into our berth with only a minor matrimonial and some deft work with the warps and fenders by the crew. The following day, we had a much less eventful trip to Marigot Bay with Richard and Caroline and were relaxed enough to take photographs and do some reconnoitring for a visit with next week's guests.
spe
Richard in charge on the way to Marigot Bay while the Skipper spends time with one of his favourite other men's wives.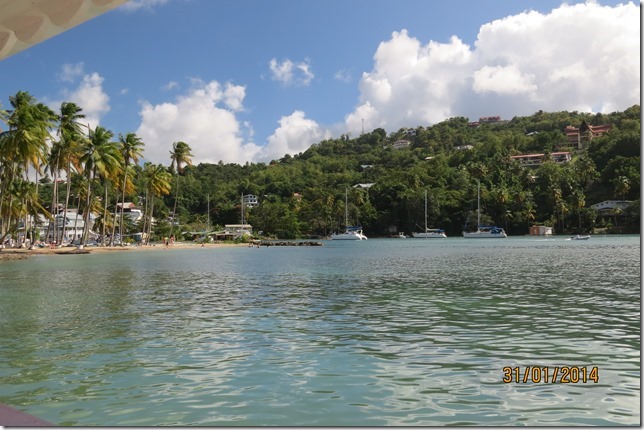 Marigot Bay looking South and the beach where the dinghies and local boats can come ashore. This much more idyllic day was rounded off by a very special evening in Caroline and Richard's luxury hotel. Note to self: must not even contemplate staying in such a place, or will have to diet for weeks to make up for it.
Now we have cleaned the boat, done the washing and are nearly prepared for tomorrow's guests and we have been rewarded by a visit from an Osprey like the one we saw in Dominica.
Osprey seen from the boat in the Marina, regrettably not a good platform for bird photography and at quite a distance.
---