Fw: Saturday, 2 May 2015. Still in Warderwick Cay. 24.23.62N 76.38.11W

Alcedo
David Batten
Sun 3 May 2015 17:22
So much for yesterday's plans. We woke up this morning to strong north easterlies, from exactly the direction we want to go to and with very little choice in destinations other than a few miles north to another anchorage, so we have decided to stay put for another couple of days at least while the low pressure and line of squalls clear and the experts decide on whether or not we are going to have a tropical storm. Today's forecast is for 18 to 20 knots, gusting 23 to 25 from the north east, gradually veering more easterly, but not moderating until sometime Monday, by which time the wind might be south easterly, which would be good news for us. They have stopped talking about a tropical storm (phew) but there is high pressure over Bermuda feeding winds into a low over Cuba, hence the strong north easterlies, while the tropical storm low is still going to form north east of the Abacos, where we are trying to go, but appears to be much weaker. There is not much on the horizon to help us get up Cape Haterras during the next week, so we are hoping for better news in a week or so.
In the meantime, we had a really great evening courtesy of the staff at Warderwick Cay and some of the other yacht crews who endured a thoroughly wet afternoon. It rained for 7 hours and thoughts of "Is it ....... August yet" were definitely lingering until we joined the party ashore. By evening, we had threatening but stunning sunset (camera not with us unfortunately) and got to know Cookie Monster's crew, Captain Corbett and Robin, Cool Cat and an Italian boat who are having major problems with their engine. Captain Corbett has been immensely helpful with regards to good places to go to in the Bahamas and we hope very much to see them in New Jersey when we pass through.
Today, the sun is shinning, so things are looking up and we enjoyed another walk to Boo Boo hill with Corbett and Robin, with the computer and iPad, so we could send yesterday's blog.
Driftwood mementos left by visiting yachts at the top of Boo Boo Hill.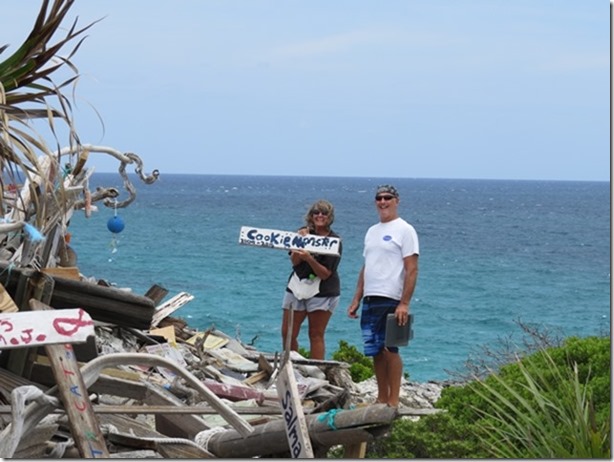 Corbett and Robin find their previous visit's memento......
...while we try and connect the computer via the iPod's 3M card, (this is not a selfie, so the crooked horizon is not of our making).
Looking over the mooring field at Alcedo, low tide, showing all the sandbanks and the value of the lifting keel.
While we have been occupying ourselves with domestic chores and boat maintenance, we are also catching up on the areas not yet covered by the blog, but they will be sent in several blogs separately because of the unreliable internet connection here.
Alcedo
---