22/06/2015. Shelter Island. 41.05.18N 72.21.03W

Alcedo
David Batten
Sun 28 Jun 2015 20:17
19 June and we left Block Island at about 08.00 in light drizzle with a cold south westerly wind. The sun did try to break through as we motored towards Shelter Island, with a submarine and some very odd floating debris including a large tree trunk to avoid, which kept the designated lookout, in this case, Anthony on his toes. The submarine was initially identified as a piece of rock with a beacon on it which temporarily upset the navigator, in this case the Skipper's wife, who insisted there was no such thing on her charts. After negotiating the very winding channel that passes north of Shelter Island, we decided to continue past Dering Harbour where we were scheduled to join the OCC New England cruise in company and head for West Neck Harbour. This has a scarily narrow entrance with a shallow bar, but with the keel up it presented no problems and it is a beautiful harbour once inside, although anchoring space is limited. Fortunately the season had not really started and there were only 3 other boats there and we had a wonderful walk and comfortable night, before setting off for the Mashomack Preserve the next morning.
The anchorage at West Neck, with just a few boats and lovely beach to walk on..... ......plus the Piping Plover and her chick on the seaward side.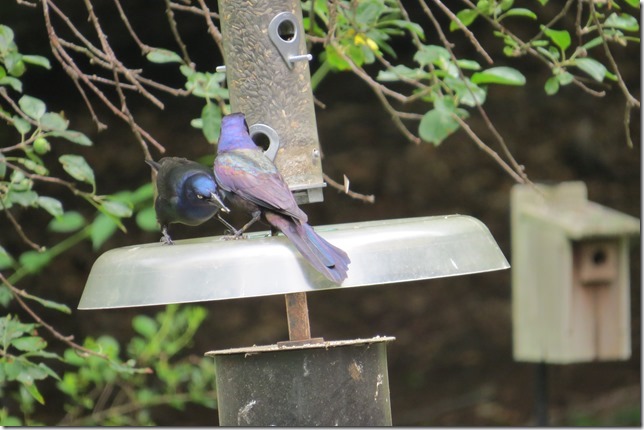 Walking in Mashomack Preserve with its lovely forest and.... ...bird table, which gave excellent photograph opportunities of the Common Grackle and.....
....The Red Bellied Woodpecker and.. ....Brown Headed Cow Birds and the female Northern Cardinal and....
.....the Blue Jay and ... ...2 Lovely House Finches.
Plus we saw a Racoon, at least we assume it was a racoon and the chipmonk at close quarters.
The Racoon which watched us from his perch in a tree and.. ...a chipmonk too busy to notice us.
After a dry morning walking and a late lunch, the weather started to close in and we decided to move to Dering Harbour as rain and increasing winds were forecast. As it happened, we probably moved at the worst time, with foggy rain and wind, but a flat sea. The Skipper's wife definitely took the boat too close for comfort to the West Neck shoal beach, but with the keel still up we got away with it and picked up a mooring very close to the Yacht Club at Dering after a tortuous route through the boats already there.
The Skipper's wife not really enjoying another motoring opportunity in the rain.
21 June. The only problem with Mashomack is that it is tick infested and there is a high prevalence of Limes disease. When walking back from the Stop and Shop at Dering, Anthony reported feeling something on his back that turned out to be a tick and a full body search all round when back at the boat revealed another tick on the Skipper. After much research and questioning of the locals, it was agreed that they would leave at 08.00 next morning to try and get an appointment with the local doctor and tick expert, who was reported as having a first come, first serve clinic in the morning. In the meantime, there was a drinks party at the Yacht Club with excellent canapes and a good opportunity for getting to know other OCC members, plus musical entertainment courtesy of the Salty Paws and Julian, who provided his own keyboard from Domini.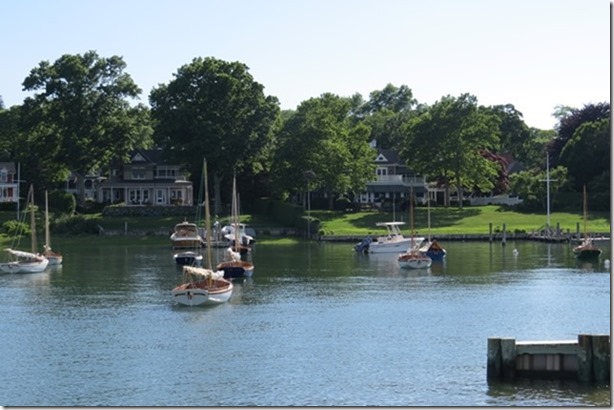 The Salty Paws and Julian on the keyboard entertaining us at the Yacht Club. Dering Harbour from the Yacht Club in much improved weather than the previous day.
Monday 22 June. The Skipper and David left with the boat bicycles at 07.15 to try and be first in the queue at the doctors, only to find they had been given out of date information. After a lots of text messages we learnt that they had eventually managed to get an appointment in the next door surgery at 11.30. In the meantime, Skipper's wife and Venetia arranged to join a wine tasting outing involving a ferry journey, hired bicycles and a bicycle ride of between 5 and 7 miles. All good fun and the Skipper and Anthony managed to join in as the first sample was being tasted. Suffice it to say, interesting and informative though the tasting of about 8 white wines and 5 red wines was, we refrained from purchasing any but cycled back in a very relaxed and mellow mood.
Choosing the wine tasting menu, Ron and Ineke from Lily, Bill and Laurie, Tony and Rachel from Toodle-oo and Venetia, Skipper and Anthony still being on their way.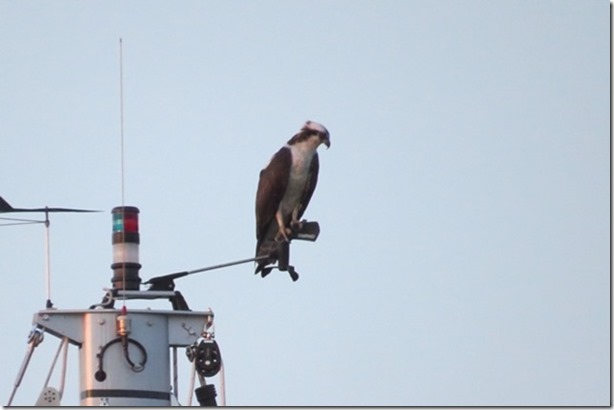 Back to the boat and a perfect evening to end a different day, with the sun setting on Lily in Dering Harbour and an Osprey using Second Chance's wind indicator as a fish spotting look out.
Tomorrow we leave Shelter Island, heading for Cutty Hunk.
Alcedo
---