10 July 2015. Newport to Norwalk. 41.03.58N 73.25.65W

Alcedo
David Batten
Wed 15 Jul 2015 23:21
5th July and we start the day driving round the Rally boats to find the owner of a nice pair of Musto shoes left behind after the previous night's party (Stuart on Time Bandit claimed them.) We then motored down the bay to Newport. We managed to fit in 2 more of the famous "Summer" houses, Chateau Sur Mer, which was dark and Victorian and full of clutter and the Elms, which we both loved. Lovely rooms, beautiful garden, a real gem.
Chateau Sur Mer, a rather drab, Victorian house with dark rooms full of clutter and wood panelling.
The Elms, with its lovely parkland, trees and garden features, light airy and beautifully appointed.
A view of the patio, which faces the coast and..
Just one of the garden features, surrounded by beautiful old trees and box hedges
July 7 and a nice morning, sun and cloud at 08.00 am which became thick fog with visibility down to less than half a mile by 11.00. We had quite a strong current and a good wind with us and were aiming for a very narrow, very rocky gap between the mainland and Fisher Island, known as Sugar Passage, which we had been through before after leaving Noank at slack water. With a fair number of boats out and about, the radar on and eyes straining already, we decided to play safe and go for the much wider channel the other side of Fisher Island and, had it not been foggy, it would have been a lovely sail. We reached the anchorage on the north and west of Fisher Island safely and then, while driving slowly round the anchorage to find a good spot in enough depth not to have to take the keel up, hit a rock. Damn it! It was marked on the chart and should have been just deep enough at this state of the tide, but it wasn't and the boat stopped dead with a nasty bang from below. NOT good for the nerves, already on edge from all the fog etc. and not good for marital relationships, as we were well past the "end of route" flag on the chart. However, no discernable damage done other than to pride and we anchored safely in good depths at just past 15.00 hours. It was such a miserable, damp, foggy evening and we were a long way from any suitable dinghy landing spot, so we dried all the bilges and had an early night, with a rock free route set for Charles Island tomorrow.
Fisher Island anchorage, with its rocky outcrops and rather miserable conditions.
July 8 and an almost sunny morning and WARM but with fog forecast and the wind on the nose. We left after breakfast and were soon in light drizzle and moderate visibility, motoring to windward with the only distraction being a Mayday from a motor boat that had driven into the Hen and Chickens rocks just south west of the Connecticut River not far from our position. He had clearly been going faster than we were last night when we had our mishap, as he was taking on water and was worried about sinking. Coast Guard and Tow Boat US rescued him after much patient questioning on where he was, no. of people on board, donning of life jackets etc. VHF licences are not required in America and the radio protocols we expect to hear are not followed. After this, the wind increased and we were able to make our course, just, with full sails, arriving off Charles Island at 17.00 pm. Another day without going ashore, but we are making reasonable progress down Long Island Sound.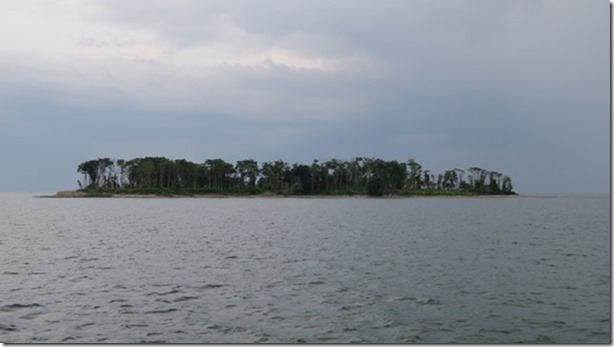 Charles Island, just a convenient overnight anchorage, not dissimilar to Duck Island, but in a bay and with no breakwaters.
July 9. Charles Island did not provide enough shelter for us to want to linger, so we left immediately after breakfast for Huntingdon Bay, which we had been told was worth a visit. Another morning of drizzle and light winds, so more motoring but with improving conditions by the time we dropped anchor just north of the mooring field in Northport Bay. A pleasant enough place with a town dock for the dinghy near the end of the bay and a good general store where the Skipper bought some plastic storage boxes to replace the one that got broken when we hit the rock. We did just wonder what the lead bulb will look like when Alcedo comes out of the water!
Northport, Huntingdon Bay from the road above the inner harbour
A Killdeer on the beach, Northport.
July 10 and another motor the short distance to Norwalk, where we pick up the same yacht club mooring as before, with the same friendly welcome as before. Scott came out to the boat when he heard we had arrived and kindly took us to Staples to sort out some paperwork for the Skipper's wife's niece, who is in the process of buying her first flat. There is no loss of connection with family and friends with the internet and the new iPad with 3 or 4G and a local sim card makes communication with England very easy. We had the most entertaining supper with Scott and Kitty and some of their sailing friends, particularly when the conversation turned to Jewish customs and the normal practice of circumcision for all American male babies, you learn something new everyday!
Supper at the Kuhner's, from left to right: Ginny, Skipper, Kitty, Charlie, Scott and Skipper's wife. Photo taken by Laura, who was off to Panama the next day.
We have had such a great time on both our visits with Kitty and Scott and just hope we can remember a small percentage of the advice they have given us about Panama and the Pacific. Tomorrow we will head back to Manhassett Bay, where our Long Island Sound Cruise started before catching the tide through Hell's Gate and on to Atlantic Highlands. Writing this reminds us of the great time we had on the way north and east with Anthony and Venetia and we are missing them.
Alcedo
---