Delayed. Ocean Marine. 36.49.911N 76.17.78W

Alcedo
David Batten
Sun 8 Nov 2015 23:06
Sunday 8 November. We should be on our way out of the Chesapeake Bay and heading for the Gulf Stream, but the weather is not playing ball and we are waiting for some very strong northerlies, gusting 35 knots, to subside and for a potential Tropical Storm forming down south to move sufficiently north east for us not to have a close encounter with it.
Venetia and Edds both joined the boat as planned and we have been out for an educational training sail today to go over putting up and reefing the mainsail, unrolling and rolling up both headsails and using the safety gear. It was a brisk, cold day with lots of shipping, good for the education and we were back in time to meet Gary and Greta who had come over to visit just as we were leaving the marina,but stayed in Portsmouth to welcome us back.
Some on the Rally in Ocean Marine, Portsmouth
The crew have been working hard on setting up the fishing line, re-instating the courtesy flags, cleaning the cockpit and we have checked all the bilges for leaks and stowed all the store, including some long term provisions for the Pacific crossing. We are ready to go and just waiting for the weather window, which we hope will be on Tuesday.
Skipper with the manuals and Ship's Boy setting up the fishing line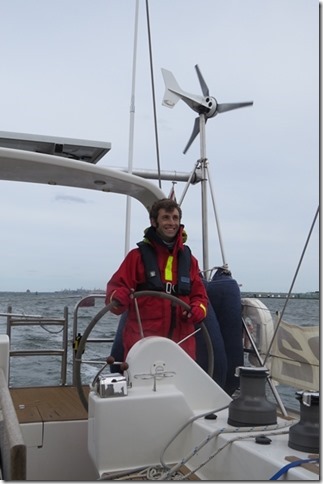 Edd having his first go at doing the driving.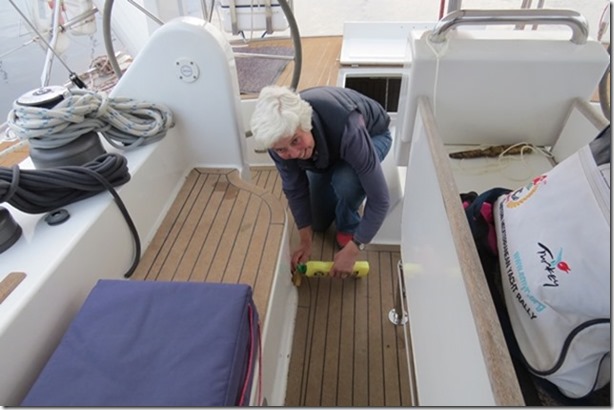 Ship's Boy cleaning the cockpit
In the meantime, we are getting to know some of the other Rally participants and are getting more familiar with the Portsmouth environs, not nearly as nice as Norfolk, but the town does have the most wonderful cinema, restored by a local business man, where you can have supper and watch a film in great comfort.
Fingers crossed for Tuesday.
Alcedo
---