Blog 6. 4 March 2020. Ko Muk. 07.21.49N 099.17.52E

Alcedo
David Batten
Thu 5 Mar 2020 11:37
March 3 and Skipper's birthday. Now much nearer 70 than 60, rather a scary thought. We celebrate with a snorkel before the worst of the tourist boats arrive, with lots of fish and patchy good coral on the east end of the bay in the roped off section. Then a trip to Ton Sai Bay where the "village" has been rebuilt on the narrowest part of isthmus between Ao Lohdalum and Ton Sai Bays. Unrecognisable from our visit in 2011, soon after the Tsunami, it is now a mishmash of restaurants, tourist shops, "supermarkets, bars, tattoo parlours, concrete and tin and a few up market hotels. Paradise paved and buried under the all consuming desire for more of everything for locals and tourists alike.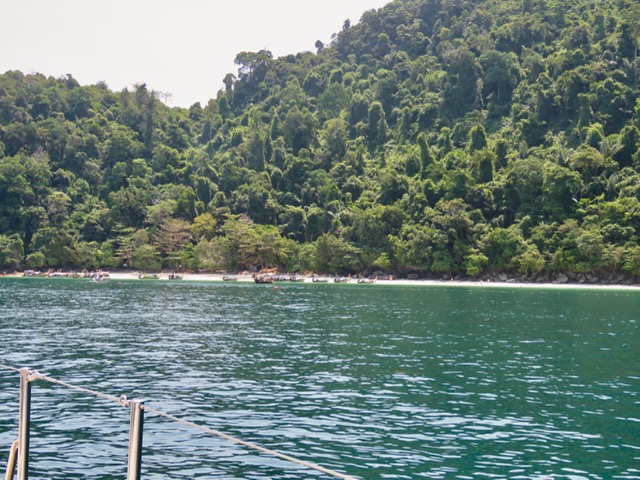 The beach at Ao Yongkasem




Skipper tying the dinghy to a swimming rope in Ao Lohdalum bay, where low water means a very long dinghy drag




There is no beach at Ton Sai Bay now, just an endless wall and hundreds of tourist boats. Notice the distinct lack of yachts in the bay.




So this is the smart "Parade" in the "village" with Pizza and Macdonalds for the crowds of tourists that are absent this year because of the Coronavirus




This is typical of the wiring, which gives you an idea of what the back streets might look like




One of the less chaotic back streets, which would normally be heaving with tourists

We did have a very good lunch, both in value and taste and a somewhat exhausting walk uphill to the lookout view. This, we discovered, required 30 baht from each of us and the Skipper's wife had a refusal at the last set of stairs as we could see most of it without going any further and without paying.

After Ton Sai, the bays on the north side looked very pleasant and we were happy to go back to Alcedo and the long tails.




Ao Lohdalum and some rather under occupied Long Tails. Thailand like many tourist destinations is feeling the effects of Coronavirus.

So today we actually managed to sail for a short while on the way from Phi Phi to Ko Muk, some 43nm, making good enough progress to arrive by 16.00hrs. The echo sounder, which had behaved for quite a lot of the trip, started to sulk again with 2.4m showing as we approached the preferred anchorage in the South East Asia Pilot. We decided to play safe and pick up a buoy off the beach at the south west end, whereupon it burst into life and claimed a depth of 8.2m, which seemed very likely. It was a bit bumpy for the evening as the wind was blowing a steady 10 knots or so from the west, with a fetch of anything from 300nm to over 1000. However, it promises to settle later and we are looking forward to swimming to the Emerald Cave tomorrow.




Another quiet beach at Ko Muk, which some members of the family might remember from our previous visit

Alcedo
Sent from my iPad
---