Fw: Clifton, Union Island, 09/03/2014. 12.35.75N 61.24.75W

Alcedo
David Batten
Tue 11 Mar 2014 02:07
As it appeared to be a much less windy day we thought we would try Frigate Island. However, with some South in an increasing wind, it is not comfortable and we carry on to Petit St Vincent. The area is full of reefs and shallow patches, but the navigation is made so much easier with the moving picture as the Skipper calls it and we arrive in time for lunch. PSV is private, unspoilt and very beautiful, with turquoise water and white sandy beaches.
We snorkelled in clear water off the reef in the afternoon and then settled in for another night of rising winds and choppy waters. By next morning, it was cloudy and blowing 17 to 20 knots and as there is not much walking on PSV, we decided to go to Clifton.
Saturday, 08/03/21014. Retracing our course of yesterday, we motor sailed the short distance to Clifton. After an exciting time weaving in and out of moored and anchored boats as well as avoiding unoccupied buoys, kite surfers and avoiding the reef in the middle of the harbour, we found a spot to anchor an dropped the hook. Lots of driving backwards once it was down to check it was dug in as there is very little dragging space here and the wind was its usual 15 to 20 knots.
The anchorage at Clifton, looking towards the town and Kite Surfers in the shallows off the reef, behind which most of the boats are anchored.
After making sure the boat was not going anywhere, we headed ashore and enjoyed exploring the town with the Jade crew, who also arrived in Clifton that morning. After a beer and lunch in one of the many restaurants, we stocked up on vegetables and bread etc in the local market.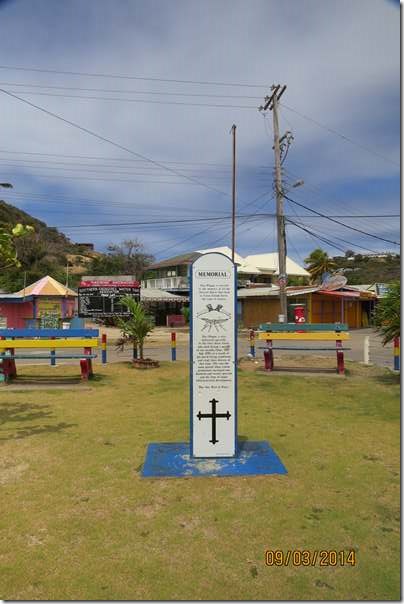 The Market Square in Clifton (photographs were taken on Sunday when we had the camera) and the second memorial we have seen in honour of the Slaves.
Sunday, 09/03/2014. Another windy day, so we decide to go for a long walk and picnic lunch, after a great display from some Frigate Birds and Gulls diving for chicken skin which was thrown overboard by the crew of Scaramouch, one of the local boats for charter.
After saying goodbye to Alex from Jade, we take the dinghy ashore and head for Ashton with a view to climbing on of the hills inland, but discover the walk to Ashton is quite long and so we never made the hills, but settled for lunch on a little bit of beach in the mangrove lagoon between Ashton and Frigate Island.
On the road to Ashton, Frigate Island in the background, with the shallow area between Frigate and Clifton. Fishing quay at Ashton, in quite Sunday mode.
Picnic spot and the view from the road looking at Petit St Vincent and Petit Martinique
The walk turned into a bit of a bird watching opportunity, as there were humming birds and herons and a really good sighting of the Mangrove Cuckoo. Such a treat.
Green Throated Caribnb which is much the least common of the 3 humming birds found in the Lesser Antilles and the Green Crested Humming Bird, which is very small and difficult to photograph.
The Yellow Crowned Night Heron, which we just came across when finding a spot for lunch, how lucky was that and the Mangrove Cuckoo, which is hard to spot normally.
After a very satisfactory walk we took a much needed siesta but no swimming today because it was so rough. We are very excited to get an email from Avocet's new owner, Pierre, to say they are in Martinique and heading South, planning to be in Bequia on Tuesday. We are really keen to see her and hear all about Pierre and Corinne's adventures up the Amazon, so change of plan for us and back North to Bequia tomorrow rather than continue South to Carriacou.
Alcedo
---