Blog 18. Inside the Great Barrier Reef. 22.06.54S 151.31.25E

Alcedo
David Batten
Tue 28 May 2019 08:02
Monday, 01.20am. Am writing this blog because we are very excited at having entered the sea between the mainland and the Great Barrier Reef earlier today. No land in site and we might as well be in the middle of the ocean except for all the shipping near the mainland.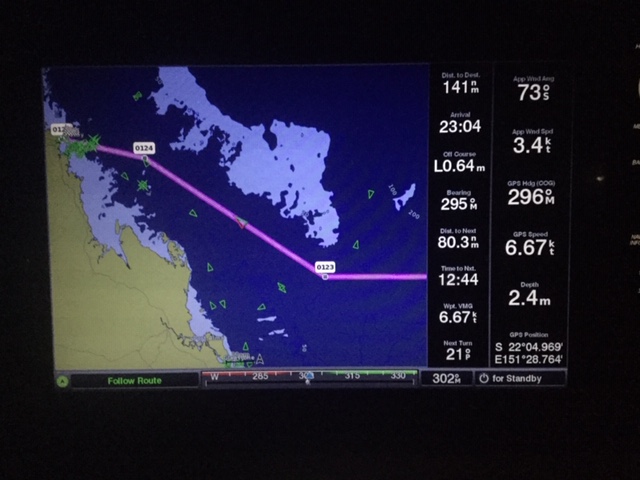 The Garmin chart showing our position and route up to Mackay in the early hours

It has been a day of sunshine and emptiness apart from the shipping as we approached the bottom end of the GBR. Only 2 seabirds and blue skies and sea and land too far away to see.

There was a nasty moment just before lunch when the starboard motor stopped, no warning given. However, the "boys" jumped into action and diagnosed the problem as no fuel in the filter, not difficult as according to Kiwi Bill, diesels only stop for 2 reasons, no fuel or no air.



Floor up, fuel filter about to be removed. Note the lunch time cook looking on......



The lunch time cook showing some disapproval at the delay to serving lunch....



... but which was met with great gusto when it did arrive.

With both engines working again and a little help from the mainsail, we were making good progress, turning the corner to go north inside the GBR at 13.00hrs.



Sunset at about 18.30, motor sailing in flat calm.

So now we are motor sailing up the reef side of the shipping lanes on a beautiful calm night. The sky is full of stars and the moon has just risen and there are no ships within sight. The AIS since the installation of a mast head aerial is showing lots of little green triangles in the shipping lanes and at anchor near Mackay. It's all good except that it is inevitable that we will arriving at Mackay in the dark, not so good!

Alcedo

Sent from my iPad
---