Blog 5. 2nd March 2020. Phi Phi Don. 07.44.73N 098.45.62E

Alcedo
David Batten
Tue 3 Mar 2020 10:42
A few more pictures from our dinghy trip round Phanak.




Coming out of one of the hongs you get to see on foot only and cannot actually get into on the east side of the island




Inside the mangrove hong, also on the east side of the island, which involves a wet walk at low water and possibly a swim at high water




Mud hopper in the mangrove hong




One of the biggest caves we went into, that did not lead to a hong

A great morning's entertainment followed by an evening social on Entice. by this time, Florence with Matt and Amy had joined the fleet, so it was a great catch up all round.

Most of the other yachts continued North the following day to the James Bond island, but this involves some very shallow water and luckily for us we decided to go back to Phi Phi and Ao Lanah Bay. Luckily because the new sonar/echo sounder is once again giving nonsensical readings, anything from 1m to over 40m with a default of 2.4m when refusing to play at all. Feeling our way through shallow water with an inaccurate chart would have been very bad for the blood pressure and marital relationships. As it was, we spent a pleasant afternoon snorkelling and exploring with Alcedo tied up to a nice big yellow buoy with no worries about depths.



An almost deserted beach at Ao Lanah after the day tourists have left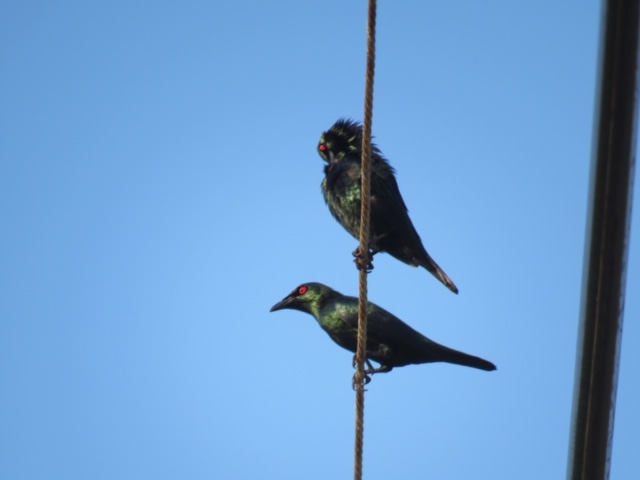 Asian Glossy Starlings showing their lovely plumage in the evening light



Skipper studying one of the long tail engines. No protection for the driver and very heavy to manoeuvre

Today we took the dinghy round to Ao Nui Bay, just next door to Ao Lanah and not suitable for Alcedo. Good snorkelling but a very popular spot for the tourist boats after about 09.30


Ao Nui bay before the tourist boats arrived. The safety rope for swimmers is a much needed safety feature of the snorkelling areas as the high speed motor boats are quite capable of driving into each other, never mind a swimmer

Now we are on a buoy in Ao Yongkasem Bay, which is in anything from 8m to 23m if the echo sounder is to be believed. Mostly it is sulking and reading 2.4 so we are going to try a software update and some emails to Garmen support.

Alcedo

Sent from my iPad
---