Blog 41. 28 July. Debut continued.

Alcedo
David Batten
Tue 30 Jul 2019 11:51
Starting Wednesday we have had three full days of welcome ceremonies from 7 villages, including Debut. The villages have been decorated with flags and most cleaned for the occasion. We have been welcomed everywhere. The children get particularly excited and want to shake your hand or have their photograph taken.





Yvonne from La Pecadora, the biggest yacht on the rally having her photograph taken.

In each village we have had a formal welcome with differing amounts of coconut milk spraying, music, dancing and eating.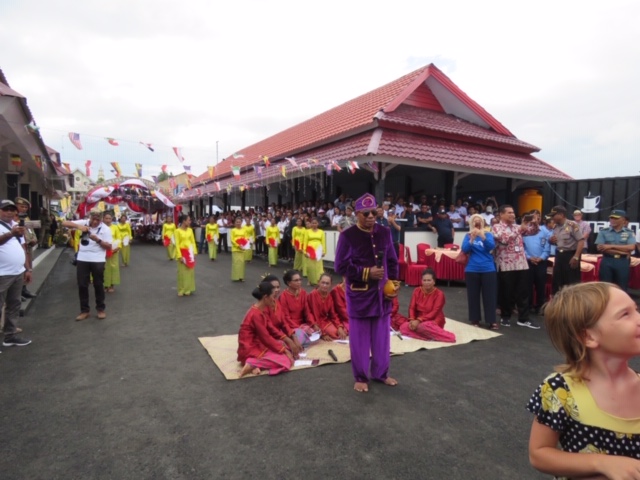 The traditional welcome in Debut at the opening ceremony. A speech followed by spraying us with coconut milk, followed by singing and dancing, the dancers now dressed for the occasion




Warbal, the poorest village we visited, still decorated with flags and determined to put on a good show

We also joined a beach clean for Ngurtavur beach, where in spite of there being a weekly clean up, we picked up quite a significant amount.




The litter collected from the beach. The yellow "T" shirts are for the Trash Heroes and are sold to help support the initiative. Skipper's Wife tried, unsuccessfully, to buy one.




Typical local foods cooked for us at the villages and served at lunch and evening occasions




The waterfront at Langgur, where we had the best lunch and smartest seating.

We left Langgur by local boat to watch the "Sasi Pantai" or ceremony for the protection of the reef and seaweed beds from marauding villagers, local or otherwise. Basically, a plait of coloured leaves indicating no fishing or harvesting allowed.



The sign forbidding the gathering of seaweed and fishing on the reef being formally endorsed by one of the village officials

More encouraging still, we witnessed the sinking of an old car wreck to form the basis of a new reef and divers checking its position and"planting" coral seeds.



An old car having a new reincarnation as a foundation for a coral reef

It is heartening to see that they are trying to protect at least some of their environment, that they are becoming aware of the litter problem and they are starting to take action. Let's face it, we have nothing to be proud of in the UK.

After such a full program of events, we had to have a day of shopping in the local market, visiting the ATM, buying more credit for the SIM cards and a visit to the GOTA supermarket. Then goodbye to our hosts at Debut, who have made our stay here so special. Our car driver Andrew, our guide Susan, the chief guide Miss Ottie, Ravoo, Joseph, and the dinghy guard John, to name but a few. Then a small gathering on Time Bandit before checking we were ready for the sail to Banda, approximately 190nm to the north west.

Alcedo

Sent from my iPad
---