The family leaves

Alcedo
David Batten
Thu 18 Jul 2013 20:24
sent from
Rubicon Marina, 28.51.41N 13.48.94W
Pictured below are the Deck Jewellery, Bartender and the Chief of washing up. We will leave you to allocate the roles!
We left Puerto Calero on Wednesday morning after saying goodbye to Tessa,
Mike and Jo. They have been a pleasure to have on board and we were sad to
see them go, but the great thing about a yacht is that there is always
plenty to do and no time for moping. After buying fresh bread and water, we
left Puerto Calero in calm conditions and bright sunshine, with help from a
very kind Frenchman from an aluminium yacht not dissimilar to Alcedo in
concept.
The wind soon got up and as we rounded Pta Papagayo, started to blow 25 to
30 knots from the North West, which seems to be the norm for this area at
this time. Skipper's wife started to get nappy about going into the marina
with this much wind, particularly after the port engine died after taking
the mainsail down. It did recover and there was a moment when the boat was
very hard to steer, so we think there must have been something caught round
the prop. We decided to anchor off the entrance in the company of an Amel
yacht we had seen in Playa Francesca, but the marina rib came out to welcome
and help us, so we did the usual reception berth and the berth we had had on
both previous occasions, this time without any mishaps. This definitely
required a beer/ Ricard to celebrate and calm the nerves, so going on the
wagon was postponed, probably indefinitely.
The anchorage at Playa Francesca.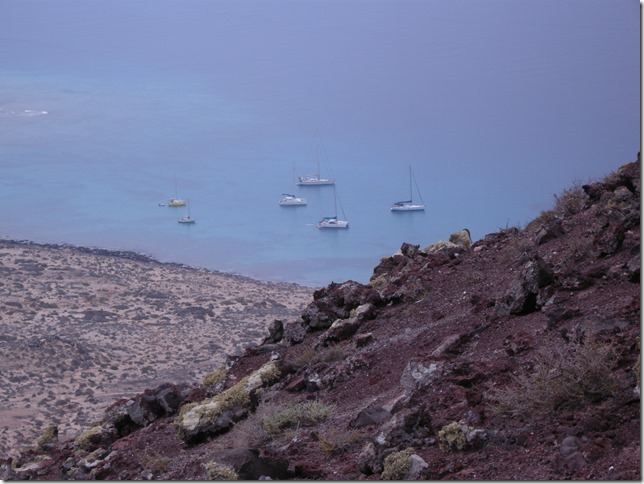 Since then, we have been busy with laundry, shopping, water maker (making
some progress now) and washing the decks etc. all in lovely sunshine but
also lots of wind. Our departure to Las Palmas may well get delayed as we
study the grib files it continues to blow.
Alcedo
---