March 27. Ocean World Marina, Dominican Republic. 19.49.69N 70.43.86W

Alcedo
David Batten
Fri 27 Mar 2015 23:45
March 26. 05.30 alarm, breakfast and up anchor as soon as it is light. We left Puerto Rico sailing with a very satisfactory wind speed and direction, 15 knots off the beam, but in the end, had wind from east to south east and off the coast of Dominica, south for a while with speeds of 6 to 20 knots. So, busy watches with trimming sails and motor sailing when our speed dropped below 6 knots, as Ocean World is not somewhere we would like to go into at night, but we did not have to reef. In the end, we arrived in the early afternoon with 25+ knots of wind from the east, with the full mainsail a bit by the lee and an involuntary gybe resulted in a bent stanchion post. Another item to add to the jobs list when we can find somewhere with a suitable workshop. Anyway, that prompted the skipper's wife to suggest, in no uncertain terms, taking the mainsail down and proceeding more sedately under genoa alone for the last few miles.
Ocean World has an exciting entrance when there is a big sea running, as there was, as its main shelter before getting behind the breakwater is a shallow patch and a reef, with no relief from the wind and a rough sea until inside the breakwater. Once inside, it is well sheltered from the sea unless there is a northerly swell and the staff were very friendly and gave us an easy access birth. Clearing immigration and customs was very easy with the help of the marina staff and so far, we have not been boarded by the narcotics division for a drugs search. Early bed tonight and explore tomorrow.
The entrance to Ocean World from the Marina (much too exciting to take a photograph while we were coming in.)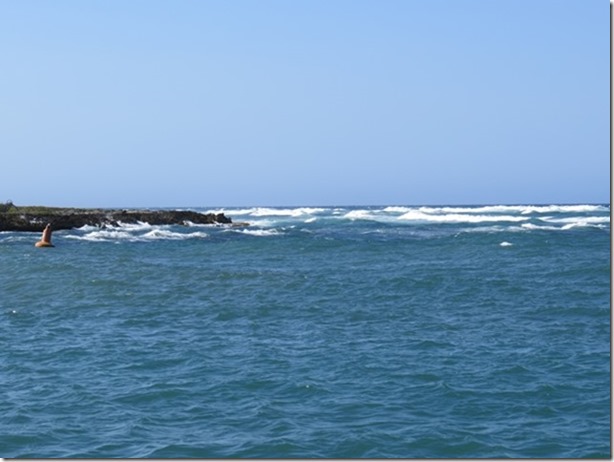 A closer view of the reef to starboard that needs to be kept well clear of coming in with one of the starboard buoys
The very charming immigration officer being taken home by local boat. He did do a lot of waving and "hail Mary" sort of stuff before leaving!
Alcedo
---