Re: Log 2. On our way. 14.00.30N 61.10.14W

Alcedo
David Batten
Tue 19 Jan 2016 00:24
January 9. Preparations over and we are now 10 miles from the turning point off the buoy off Castries. Our position in the fleet at the moment is completely misleading, as we have motor sailed for about 85 minutes already, both to avoid having to tack to a buoy we would never have tried to get to if setting sail for Santa Marta in the ordinary way and to try and get into the better wind offshore away from the influence of St Lucia's landmass.
Clocking in with the Committee boat before the start.
And we're off, a bit slower than needed because the Skipper did not want to jump the line.
Heading for Castries with some interesting clouds ahead.
The wind is still variable and not really a sailing wind for us with our not very big genoa and no coloured sail. We are hoping that the wind will increase this evening as promised, but as we are now with out wind and not prepared to do 3 to 5 knots off St Lucia whilst waiting for wind we are now motoring. Crew discussion of what they wanted from the World ARC did not include racing or prizes but did include getting there in reasonable time! Ship's Boy has just made the following observation: "Look at all the spinnakers behind us, they should try motoring" and this from a lady who did the AZAB race in Roberson's Golly, spinnaker start and who also spent 12 hours off the French coast going backwards and forwards with the tide on a "no engine" cruise with another RCC member. We hope we don't get blackballed by the RCC for our behaviour, but we are too old to waste time and Mr Tibbs said the lead boats would have a better time off the Colombian coast! Even with the engine on at reasonable revs, we cannot catch Spirit who had a great start and are easily the fastest yacht with her spinnaker flying well and showing a clean pair of heels.
We did pretty much do all we wanted before casting off, except finishing the stainless steel polishing, with all the crew working hard between social events and seminars. Yesterday was Skipper's briefing, weather forecast, safety briefing for the crew, checking out and last minute shopping.
Ship's Boy mending the stack pacek
The Skipper attending to the rigging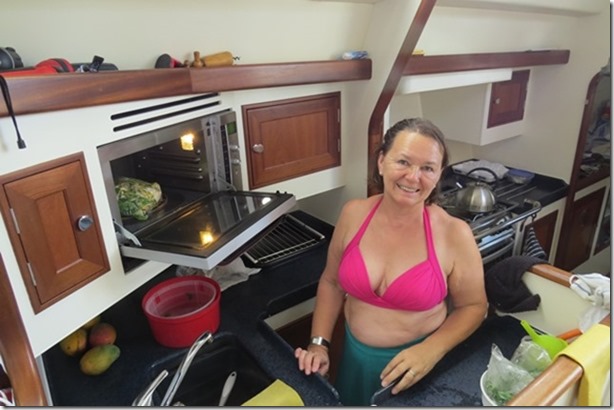 Jane on vegetable preparations
Today was last minute emails, downloading GRIB files, paying the marina bill and putting away the washing which did not dry yesterday because of the frequent and sometimes prolonged showers. We had a great send off from the St Lucia tourist board last night, very generous of them and we hope they were the beneficiaries of today's rather peculiar start course.
Goodbye Rodney Bay as we motor out of the marina
Probably won't be able to send this until we reach Colombia, and here's hoping for continuing fair winds, but just a few knots more!
Alcedo
A reminder to take with us of how beautiful the anchorage at Pigeon Island from the beach at Gros Islet
---