24/06/2015. Cutty Hunk and Menemsha. 41.21.28N 70.46.28W

Alcedo
David Batten
Thu 9 Jul 2015 23:14
23 June and another early start to catch the favourable tide, so underway by 06.30, with Toodle-oo just in front and Lily just behind us. This of course meant the Batten competitive nature coming into play, with all sails up and an immediate informal race, disregarding the fact that we were the biggest boat and should jolly well go faster than either of the other two. However, we did have a cracking sail, reaching at 9 to 10 knots with Anthony on the helm, gradually loosing sight of Lily and Toodle-oo who were heading for Menemsha, until gusts of 30 knots made reefing a sensible option. One reef in and the wind promptly moderated, but we continued with an increasingly rough sea but slightly faster direction, still 9 to 10 knots and more, with an improving blue sky. We entered the narrow channel into Cutty Hunk Island harbour and picked up a mooring buoy in time for tea and an evening walk ashore, taking care to keep the ticks at bay.
Cutty Hunk Harbour, off season, an empty mooring field in the sunshine and.... Walking in the fog, consulting the iPhone for possible routes.
Saw this lovely Cedar Waxwing on the way back from the walk and..... ...a very cold pair of swallows giving a clear indication of the temperature in the fog.
24 June and a leisurely 11.30 start for Menemsha, less than 10 nm away on the north west corner of Martha's Vineyard, motor sailing with the genoa in light airs. We had to anchor off the harbour as it is so small, there is room for only 2 mooring buoys and a few slips and not suitable for Alcedo, but we had plenty of company with other members of the OCC Rally such as Wishbone, Lily, Domini and Second Chance.
The tiny harbour of Menemsha and.. ...its somewhat exciting entrance, narrow and tidal.
However, the anchorage is very pleasant as shown by Wishbone, although it did get rough. A view of the lovely pond inland of Menemsha's harbour.
The evening's entertainment was pot luck hors d'oeuvre on the beach, with bring your own alcohol, followed by supper at the Home Port restaurant, very popular and very fishy.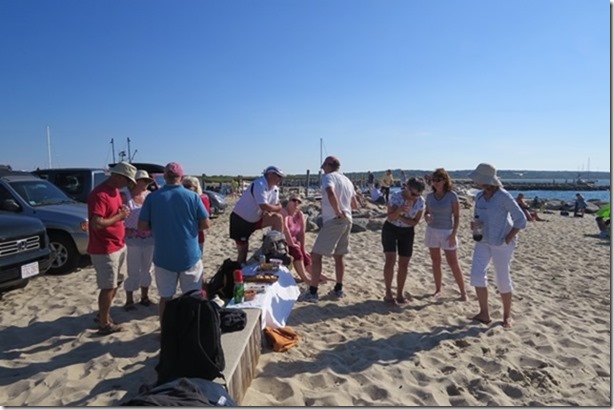 Beach party OCC style, with bring your own starters laid out on a convenient sand barrier on a very nice beach on a very nice evening!
It was already starting to get rough in the anchorage when we got back to the boat in the dinghy, so we are planning to leave the rest of the party tomorrow and head for a more sheltered anchorage tomorrow.
Alcedo
---