log 81. 10 Oct. 01.10.09N 104.18.705E

Alcedo
David Batten
Tue 12 Nov 2019 00:39
8 November. Happy to say Ship's Boy much better and able to attend local market, even if the bargaining with the stall holders was not up to her usual ruthlessness. Laden with fruit and veg, we returned to Alcedo and set off for Bandar Bentantelani. We were hit by one very nasty squall with torrential rain and 30 knots on the nose as we crossed the shallows.
We were very glad it was high water and we never saw less than 5m as we tacked out under engine and staysail. Then it was mainsail and Genoa up and a hard motor sail to windward until we turned north up the channel between Bintan and Batam where the wind freed us.

Bandar Bentantelani is very shallow. We anchored in 6.5m with a 0.6m drop in depth at low water to come, well outside the harbour where they were busy chucking out the yachts that arrived early to make more room for the ferries.




The "outside" anchorage, very exposed to the North and West




CV in the more sheltered but very shallow "inside" anchorage

The area we visited is one massive resort area with different hotels, "resorts", some beaches and the best bit, a mangrove lined river that we had a good "tour" down in a fast local boat the following morning.




Motoring through the mangroves

We did see one kingfisher and 4 snakes, 3 mangrove snakes and a python. Skipper and wife delighted to see these, Ship's Boy not so happy, but announced she was being very "brave" about it!




Mangrove Snake resting until dusk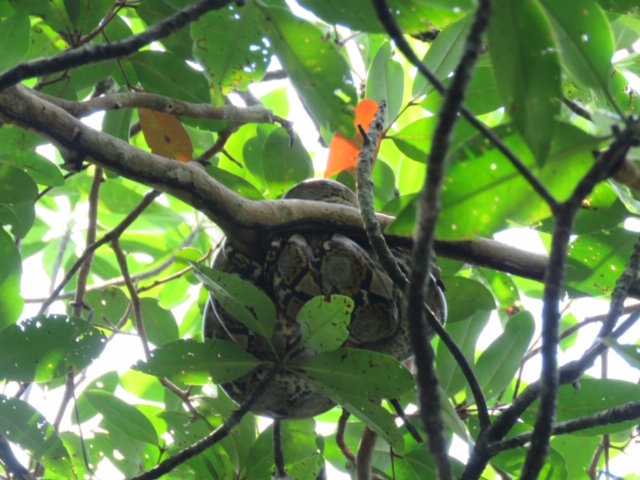 Python, so tightly coiled we could not make out his head

After the Mangrove Tour, and just by way of a change, lunch and more shopping at the Lagoi Bay Resort. We would go quite a long way to avoid such a place under normal circumstances, but they did produce a reasonable lunch and final dinner.




Seated for the final dinner, except for the Skipper




Goodbye and thank you to Raymond, Patricia from Marie Claire presenting one of her lovely portraits. Just on the right of the photograph, Noel the photographer. Wherever Raymond was, Noel came to photograph all the rally events.

So yesterday we collected the paperwork we need for leaving Indonesia and entering Malaysia and this morning, all the yachts except Freidelborg, who are having trouble with their documentation have left or are leaving Bintan. Happily we shall be seeing most of them in Malaysia and maybe Raymond will be there too, so no painful goodbyes yet and we are planning one more stop in Indonesia on the way to Port Dixon.

Alcedo

Sent from my iPad
---