NZ Blog 11. Bay of Islands. March 8 2017. 35.18.812S 174.07.33E

Alcedo
David Batten
Sat 18 Mar 2017 09:40
We have been very remiss about the blog, so this is a bit of a catch up. Photographs are a bit of an issue, as there are so many to choose from, the photographer in the crew is feeling a bit overwhelmed!
February 28. We motor sailed with one engine and full main and genoa for most of time, as the wind, although on the beam, was insufficient to provide the speed required to get in before dark. It is perfectly possible to navigate round here at night, but not all the hazards are marked and our aging eyesight and slower reactions make us nervous of messing around in strange harbours or anchorages in the dark. Old age and a modern boat has influenced our cruising strategy. We decided that Tutumaka sounded unsuitable for Alcedo in an onshore wind with a surprisingly big swell and that it was worth going an extra 20 miles to Mimiwhangata or Whangaruru. In the end, we chose Whangaruru as the cruising guide guaranteed no swell there, although we have been told since that Mimiwhangata is an excellent anchorage
Little Barrier on the way to Mimiwhangata, sunny skies and calm seas.
The approach to Mimiwhangata before we turned right for Whangaparapara
March 1. After a late arrival, we set sail immediately after breakfast, really sailing for the first time since leaving Whangarei, with the wind on the beam, big seas and sunny skies, rounding Cape Brett with more yachts for company than we have seen since leaving the islands adjacent to Aukland. We decided on Deep Bay as a good stopping place before deciding which of the many Islands to go on to. This was a good choice as there were only 3 other boats there because that is all there is room for in the shallower water and there is good walking from there on the trail to Cape Brett. We anchored in 18 meters and enjoyed a good afternoon walk and peaceful night.
Cape Brett and Motukokako Island from the south.
Deep Bay with the third yacht just arriving.
March 2 to March 6. From Deep Bay to Paradise Bay on Urupukapuka Island, another lovely spot with great walking on this DOC island, then on to Motuarohia Island the next day where all the tourist boats come for a walk up to a great view and snorkelling in a pool if you can tolerate the water temperature. Followed by supper in Russell to celebrate the Skipper's birthday in Sally's restaurant, shopping and then back to the islands the following day to one of our favourite anchorages, Waiwhapuka Bay on Moturua Island, via the very narrow channel at the North East corner. Moturua is DOC land, with a walking track around the island that takes about 2 hours, longer with bird watching, as it is full of bird song and we saw robins, one Rosella, the usual fan tails and silver eyes, Pukeka and masses of Tui. Next day it was keel up to go out of the southern channel and on to Urupukapuka Bay on Urupukapuka Island for another lovely day in the peace and quiet of a lovely anchorage in the Bay and another walk with a pipit that kept flying and landing in front of us and swallows all around us.
A Chorus Cicadia, very noisy and heard everywhere
Paradise Bay on Urupukapuka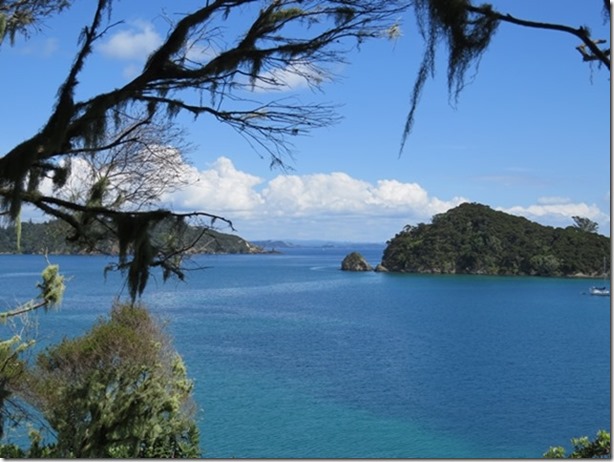 View from one of the walks on Urupukapuka, looking at the channel leading to Paradise Bay, with Motukiekie Island on the left
Motuarohia Island, anchorage and lagoon
The narrow channel between Motukiekie Island and Moturua Island
A shadey resting spot for the Kayak, which does not like to be left in the sun while we walk
Skipper taking a photograph of just one of many great views we had during our walks
The New Zealand Pipit
March 6. After spotting Lydia on our evening walk, we motor round to Otaio Bay to see if she is there, but she has already left for Whangaruru, so we dropped anchor in Waetwaetorea Bay for a walk and lunch before heading into Opua Marina a day earlier than intended because of forecasts of rain and gales and a desperate need to do some laundry, the dirty clothes having overcome the capacity of the washing machine and now threatening to make the utility room an unpleasant place to be!
March 7. After 6 loads of washing in all and "household" jobs, we had a delightful evening, including supper on Lydia in the company of Donald and 3 of his Dutch friends, all lawyers and highly entertaining as well as being good cooks, barmen and performers of Haka whenever a Maori sounding name was brought into the conversation, no camera so no photographs! We got absolutely soaked returning to Alcedo as the promised rain and high winds had arrived.
This morning we have collected a small blue car from "Rent-a-Dent" and plan to visit the Waitangi Treaty Grounds before setting off for Aukland and the Silver Oaks Inn to meet Jane, arriving at 05.00 am on a flight from Chile.
Alcedo
---