Blog 11. Wednesday. Baie de la Somme.22.19.94S 166.49.52E

Alcedo
David Batten
Sat 18 May 2019 20:05
Another windy motor sail, but with more sailing as able to fetch the course sometimes going down the Canal Woodin. The morning started well in bright sunshine but by the time we anchored, it was well cloudy with blustery showers.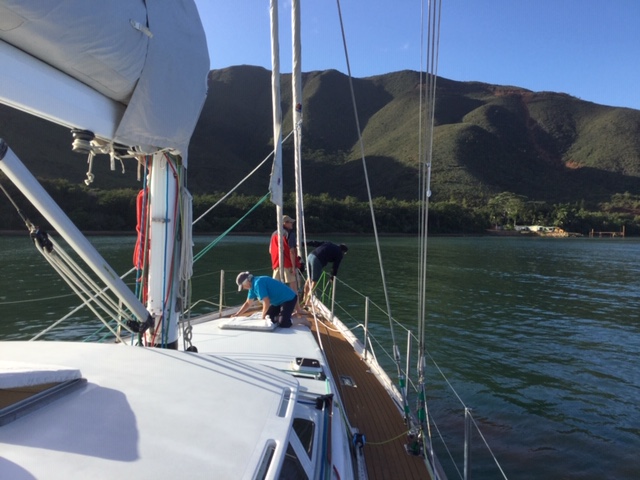 Up anchor on a lovely morning with the new breakwater in the background in Ngo Bay.

Baie de la Somme is a big, well sheltered bay, quite steep with some moorings and a good pier for landing with the dinghy. There are rubbish bins in the area behind the pier and a well marked walk to Prony village.




The pier at Baie de la Somme




Studying the notice board

Jane was alas suffering a bout of bronchitis, but the rest of the crew enjoyed the walk to Prony and the well signposted remains of the logging and then mining centre, with its workforce of french convicts, who were treated quite abominably by the overseers.




Prony village, deserted at time of our visit.




Skipper demonstrating one of the tortures used on the convicts

Crew happier for a proper walk with an interesting end point, back to the boat for social half hour and supper. Now in a routine of 4 or 5 different orders for the barman, with the Ship's Boy manfully making sure we do not have too much gin for Australian customs, while others indulge in more difficult to purchase beverages such as Ricard or Baileys. We are having to make sure the wine is consumed before we go to sea as well, all very tricky!

Alcedo


Sent from my iPad
---