Blog 60. Sumbawa and Moyo. Thursday 19 September. 08.16.46S 117.30.41E

Alcedo
David Batten
Fri 20 Sep 2019 10:23
Sadly no photographs of the Whale Shark. Some people had underwater go pros and videos. Not a suitable outing for the canon but it was a great experience, well worth the less than luxurious mode of transport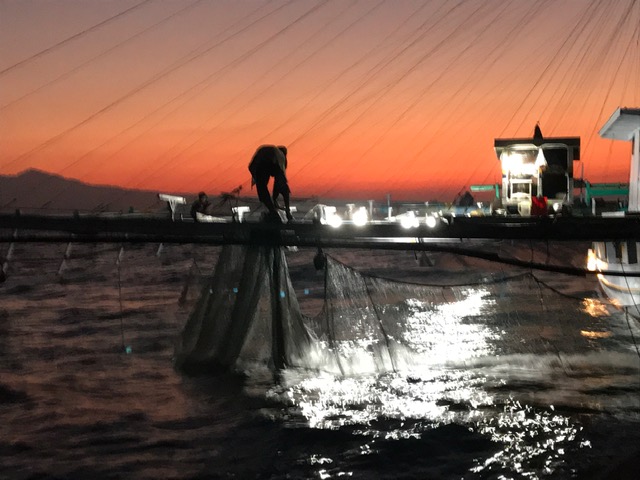 Hauling in the net on a spider boat at dawn. No Whale Shark here unfortunately and very few fish as far as we could see




The spider boat that did have a Whale Shark. You can just see the heads of some of the snorkellers on the right where the Whale Shark was feeding on by catch too small for the net, now hanging off the starboard bow.

It was a truly awesome experience to be in the water with this huge but seemingly gentle giant and the bullock racing was hugely entertaining, so we have found memories of Sumbawa. N.B. no animals got hurt during these events except some small fish and plankton.

Bill has elected to leave the boat in Sumbawa, a mutual decision brought to a head by a tooth problem, easy access to flights to Bali and the return of our passports with a 2 month visa extension, not an easy thing to get in Indonesia. We wish him well with land travel in Indonesia and a camper van trip in Australia.

After Whale Shark Tours, an easy afternoon, a sundowner on Alcedo with CV, Time Bandit, Hakuna Matata and Usquabai of Fife and an early start the following morning. A sail and motor sail north up the bay and through the channel between Sumbawa and Moyo and then on the wind to anchor off the West coast of Moyo with Lil Explorers, Florence, Mariposa and Fernweh.




Lil Explorers anchored off Moyo. What you can't see very easily is the lorikeet on the rigging which one of the boys is trying to coax back onto the boat.

After a snorkel over some quite nice coral and another hull clean, as more lawn and sea life is ever growing on the underwater hull, we are hoping for a peaceful night, although our dreams may be disturbed by thoughts of anchor chain wraps.

Alcedo

Sent from my iPad
---