NZ Blog 10. Great Barrier Island. 36.36.77S 175.26.54E

Alcedo
David Batten
Tue 14 Mar 2017 07:52
22-24 February. Whangaparapara Harbour. After a cold bright morning with no wind, we motored all morning to Great Barrier Island and arrived in time for an afternoon walk and explore and then spent another day walking and enjoying this very quiet "harbour". Watched a huge number of Gannets fishing on the first afternoon, plummeting into the water one after the other like exocet missiles, hitting the water with a huge splash and then bobbing up after an interval with their catch.
Arriving at the entrance to Whangaparapara Harbour, Great Barrier Island
All those white flecks are ........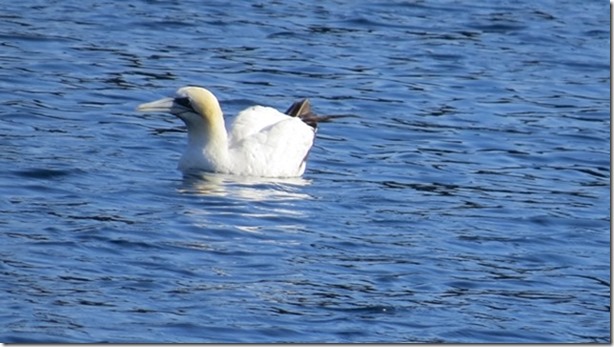 ......Australasian Gannet
Whangaparapara harbour from the estuary at low water.
24-27 February. Forestry Bay, Port Fitzroy. One of the loveliest anchorages, reached by motoring through a mass of islands and a narrow passage about 60m wide and 14m depth, real indoor sailing, but sadly, our journey was in drizzle with poor visibility, so not good for the photographs. However, the afternoon was lovely and the walking in this area is superb and we have enjoyed great views, entertaining Kakas and some really good company. We are very much hoping to meet Lane and Kay again, after an entertaining evening and prolonged coffee morning. They are circumnavigators, have been to most of the Pacific Islands and are clearly very experienced and competent and great fun.
Dull morning which fails to show lovely scenery and very narrow gap we have just motored through
Forestry Bay, with Mai Tai, blue boat in the foreground, belonging to Lane and Kay
At last,the Kakas, Forest Parrots, who live at Port Fitzroy. If you think they are dull...
....Look at my lovely wings!
Forestry Bay from the beach
Skipper on the walkway to the giant Kauri tree in the Glenfern Reserve
Port Fitzroy from one of the walks.
27 February. Managed to tear ourselves away from Forestry Bay to anchor in the next door bay, Kaiarare Bay. Much bigger than Forestry Bay and with one of the least maintained and so most challenging walks, which the Skipper revelled in as he went into 4 wheel drive to cross streams which had swept the path away and treating tree trunks lying like across the path like obstacles on a cross country course. More kingfishers and Kakas, warblers, silver eyes and fantails, but we yet to see a Kokako.
Kaiarare Bay at low tide, showing why New Zealanders all have wheels on their dinghies
Skipper in 4 wheel drive on one of the more challenging walks from Kaiarare Bay
27 February 2017. We have only visited 3 anchorages in Great Barrier Island, all so beautiful that there seems little point in rushing on. Each one has been uniquely lovely in this fabulous "indoor" sailing area, not unlike the archipelago in Sweden but with wonderful walks through lovely forests and so peaceful. We have walked for 2 to 3 hours most days and with plenty of room in all the anchorages, good holding, good shelter and being lucky with good weather, it has been a fantastic 5 days. We have hardly met a soul on any of the walks, amazing as most of them are well maintained with excellent maps and signs, steps and bridges.
One of the many superb views of this "indoor" sailing area, taken from Kaiarara Bay.
Tomorrow we are heading north towards the Bay of Islands.
Alcedo
---