log 85. 26 Nov. Pangkor, Marina Island Resort. 04.12.89N 100.36.08E

Alcedo
David Batten
Fri 29 Nov 2019 07:27
Marina Island resort has been a great base for exploring and socialising with other rally members at the convenient bar/restaurant that serves cocktails and wine as well as beer. The marina staff are super friendly and super efficient. They have laundry service, hire cars, fuel and we have put 800l of fuel in the boat in-spite of there being no fuel dock. You can get gas refills, but not for cylinders with European fittings and the only facilities they lack is decent showers and loo paper. Take your own and shower on the boat.




The marina entrance taken from the shore, Alcedo sandwiched between 2 large motor boats, Pangkor Island in the background

We hired a car on Sunday to go to Taiping and Bukit Larut, the former for the gardens and the latter for a hike half way up the mountain road, normally accessible by Forestry Land Rover only or foot. Bukit is a fabulous bird watching area as well as a good hike, 13km to the top, hence the Land Rovers but on the day we chose to go, it was hiking only to halfway house because of a landslide. Plus they took it as an opportunity to get 1000 people to walk up the hill.




Hairpin bends on the way up to Bukit with an official's car coming down




Just one of the fabulous birds seen by the Skipper's Wife on her much more leisurely walk up part of the road




A very small part of the Lake Gardens at Taiping, with the hills in the background and the branches of one of the beautiful Rain Trees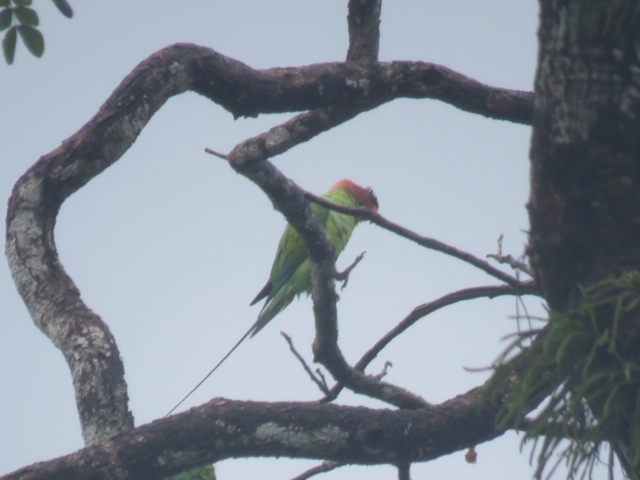 A long tailed Lorikeet, very wet in the afternoon rain in one of the Rain Trees




? One of the very pretty doves they have here

Internet still VERY slow so hope this goes, Pangkor to be continued.

Alcedo

Sent from my iPad
---