Blog 4. Akaroa. Thursday 8 March.

Alcedo
David Batten
Fri 9 Mar 2018 08:25
The Banks Peninsular in one day, absolutely impossible! The solution a scenic tour with Pohatu Penguins to visit the Pohatu marine reserve and, if we were lucky because of the time of year, see some penguins.
Francis and Shireen Helps have developed the reserve at Flea Bay over the last three decades. They are protecting White-flippered Penguins, Canterbury's variant of Australasian Little Penguin, from introduced predators and the tours help pay for this work. So after a drive through some spectacular scenery from Lake Forsyth to Arakoa, we meet Joey, our guide for the tour.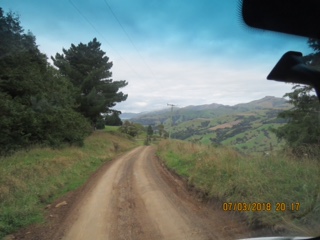 The Tomtom takes us down an interesting route to Arakoa



View of the Arakoa inlet taken during our tour


View from Akaroa heads reserve from the old lighthouse position on a calm day
Looking at prime penguin properties at the Flea Bay reserve with Joey our guide and Helps daughter.

Another penguin property with 2 moulting males in residence



Seal enjoying the afternoon sun in the reserve



This little chap is in the rehab pool at the reserve, having been found injured, probably by a giant southern petrel




He was clearly enjoying the hydrotherapy although he was not a good enough swimmer to survive in the wild.


The hydrotherapy pool in Flea Bay, Driver 1


Akaroa from the sea front after the tour and before we start going south again towards Mount Cook, spending the night at a lovely camp site at Whitecliffs on the banks of the Selwyn River, North of Glentunnel. Too dark for photographs in the evening and raining the following day!
---