Blog 7. 11 March. On to Dunedin and the Ortago Peninsular

Alcedo
David Batten
Thu 22 Mar 2018 20:31
Leaving Arotea/Mount Cook after the flight, with a cloudless sky, we stopped several times to look back up the lake for the views we would have seen the day before.





Mount Cook at the end of the Tasman valley and Lake Pukaki

We had 2 really interesting stops on the way to Dunedin. The first was Oamaru, on the South Coast north of Dunedin, a very successful trading town with a port and a railway and easy access to limestone. The result is some beautiful and imposing buildings which have survived intact and in excellent condition.



The Union Stores, built 1881-2 and...



The Bank of New South Wales, around 1893, now the Forrester Gallery

After Oamaru, we did a detour off SH1 to the Orokonui Sanctuary, where they have a pest free, fenced in reservation.


Orokonui, in a lovely setting and a safe home for:



Tuatara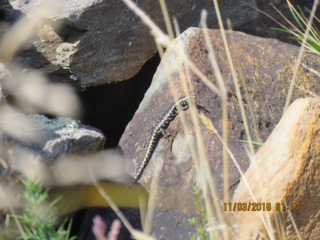 Ortago Skinks



Southern Kakas

As well as Rifleman (not seen), Shining Cuckoo (not seen), Takahe and the usual suspects, such as.....



.....Bell Birds.

It is a beautiful place and well worth a visit.

After a spectacular drive down Blueskin Road to Port Chalmers and around the Dunedin inlet, we drove into Dunedin itself for a quick hike round the Octagon, a visit to the Information Centre and a booking for a tour at the Albatross Centre tomorrow.



The Otago Peninsular from the Port Chalmers side of the bay.

Then off to join all the other "RVs" in the Dunedin Holiday campsite to do a load of laundry, charging and domestics. Nice site, good facilities, slightly noisy neighbours.

Alcedo
Sent from my iPad
---