English Harbour, Antigua, 6 January 2013. 17.00.61N 61.45.85W

Alcedo
David Batten
Mon 6 Jan 2014 23:46
We had a cracking sail from Guadeloupe to Antigua, with the wind just free, allowing a fast fetch. There was the usual "traffic" in both directions which always ensure we keep awake and sailing as fast as safe and guess what, we had 2 reefs in the main and a full genoa. We did have to roll up a bit of genoa as we approached Antigua and it was an exciting arrival off the entrance to the bay as there was clearly a race in progress and we were doing a steady 9 knots as we joined the throng.
Antigua on New Year's eve is clearly the in place, as it was very crowded with no swinging room off the beach outside and we eventually anchored in the mouth of Ordinance Bay, where the shelter is better but there are a fair number of deserted or semi-deserted boats on moorings, so it is not easy to find sufficient swinging space other than at the mouth of the bay.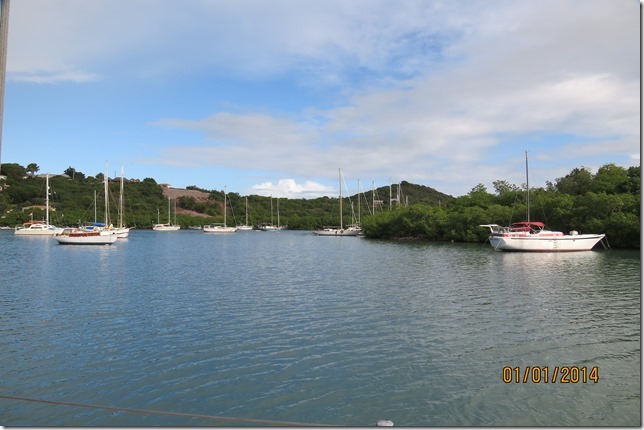 English Harbour, Ordinance Bay looking from our anchorage inshore.
English Harbour, the Old Sail Loft, now a restaurant with Sunsail centre next door.
Gloria was alongside the pontoon nearest the entrance to the harbour in Nelson's Dockyard Marina, so we sent Ed a text to say we had arrived and not long after we had settled, he came over and joined us for tea. After he returned to Gloria for supper, we celebrated the New Year with scallops and wine and declined the very kind invitation form Ed and Emma to join them on shore to see the New Year in. We are getting old and it is getting harder to stay awake these days, particularly after a demanding day at sea!
Gloria returning one evening.
Since then, we have been socialising, swimming and exploring English Harbour, sampling the beaches and the buses, photographing (or trying to) the birdlife and walking to Charlotte Point, Shirley Heights and Pigeon Beach. The walks are lovely, with stunning scenery and well marked footpaths.
Walking up to Shirley Heights.
The view from Shirley Heights
Part of the Coastal Walk, almost like a garden.
We have also continued to try and keep the boat clean and smart, as the charter yacht crews inspire us with their constant chamois leather wiping of the paint work and polishing of the steel work of the very large, smart yachts that call in here. We cannot compete of course, but it is good to try. As well as Gloria, the J Rainbow seems to be resident here, Tashatoo II, a big Gunfleet comes and goes, Vamos is here and we have had some great cocktails with her professional crew and now Leander and another small liner are here as well as two Challenger boats, plus Sea Quell which is huge yacht we last saw in Lymington Marina. She does not look so big in this company!
The Harbour at sunset, with the super yachts just visible.
The weather has been continuing with much more wind than it should. Gloria's skipper, James, reckoned it was blowing 35 knots over the deck when she last came in and it continues to deluge with rain for 5 to 10 minutes at a time, just enough to send us racing around shutting hatches or risk a significant amount of water below. Then it gets hot below, so we open everything up again until the next downpour sends us racing around again, usually around dawn and supper time. Never a dull moment!
We have had news from home about the appalling weather there, so we have nothing to complain about and the weather is glorious when the sun comes out and the wind stops it getting too hot.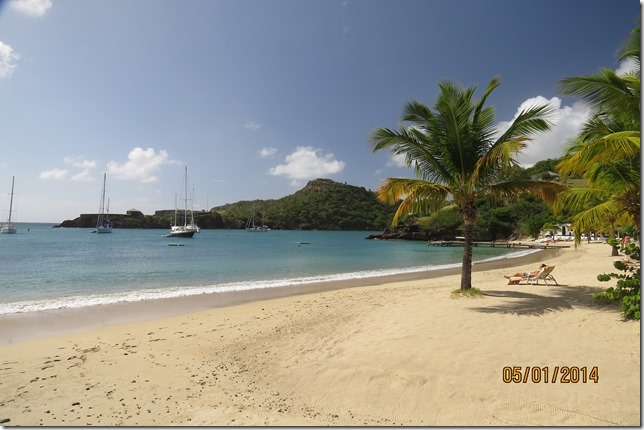 The Caribbean dream in the sunshine.
We are planning to start back South again tomorrow providing the wind is not too fierce, but we still have time to linger if it looks uncivilised and there is a small matter of a rattle in the Starboard engine that needs investigating and more polishing to keep the boat looking new if we decide to stay.
Alcedo
---