18/06/2015. Block Island. 41.11.44N 71.34.71W

Alcedo
David Batten
Thu 25 Jun 2015 23:11
14th June, left Provincetown rather rapidly as we made a last minute decision to go back through Cape Cod Canal today, as it was forecast to be a much better day than tomorrow. First log entry was for 11.30, approaching the canal in a cold north wind with a forecast of South Westerly winds gusting 30 knots tomorrow. We picked up a mooring buoy in Sippican Harbour after being led in a somewhat tortuous course between moored yachts. There was definitely no question of finding any anchoring space. Beverly Yacht Club have reciprocal privileges with the OCC and were extremely welcoming. We had a very pleasant walk ashore in the evening in Marion, a delightful town with pretty houses and gardens and very friendly natives.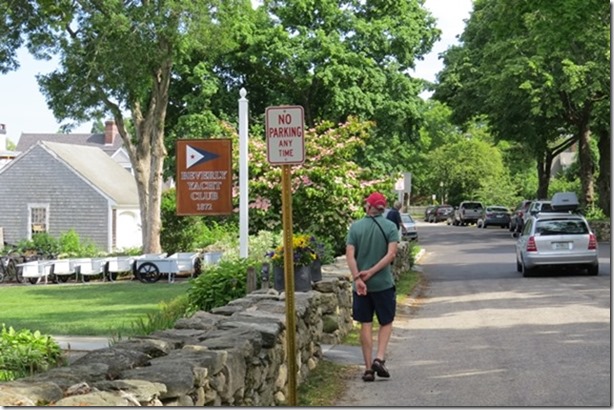 The yacht club and tree lined streets of Marion Chipmonk in a garden, Marion
Rather amusing sign in the ice cream parlour. Young Purple Martin
The following day we had the promised miserable weather, with fog and rain and wind, but Sippican is very well sheltered, so we relaxed and booked aeroplane tickets and considered the inevitable leaks, one new one in the outboard corner of the big forward starboard window and one old friend where the mast goes through the deck. The seal having cracked on the aft edge of the mast collar so no longer water tight. We had tried to renew the silage tape that Charlie Batten very successfully wrapped around the collar in Plymouth before we set off on our travels, but maybe because Charlie is a farmer and we are not, it did not work for us.
16 June and a chilly, foggy morning as we prepare to leave the buoy at 08.30 to head for Newport to pick up a new echo sounder unit. The Garmin echo sounder has never really worked properly in spite of re-locating and replacing the transducer unit, replacing the computer unit attached to the transducer, many reboots and a power supply booster. It has taken to refusing to give any readings at all and the main Garmin unit can no longer see it on the system at times, so we have ordered another computer unit for pick up in Newport. Very tedious!!
Sippicant Harbour in the sun...... ...and in the fog.
We arrived in Newport in good time and the Skipper and wife set off by bus to pick up the echo sounder unit while Anthony went off to the Lobster suppliers to buy supper. Success on both accounts and another delicious lobster supper was enjoyed by all after the echo sounder unit had been fitted.
17th June and a very civilised start at 12.15 to get to Block Island with the tide. Full sails and goose winged towards Block Island, all very pleasant and very relaxed if a little cold, then a 90 degree wind shift forced an unsatisfactory course change, so down with the pole, but we continued with full sails and wind on the beam. After a very satisfactory sail to the narrow entrance to Block Island harbour, (still cold), we anchored in the permitted anchor area in an apparently unusually uncrowded harbour in bright sunshine.
Block Island inner harbour and ...... ..one of the harbour beaches.
After a warming cup of tea, it was out with the dinghy and jerseys and rain coats on for a wet ride ashore for the evening walk.
Evening walk from the beach.... ...with a very obliging Eastern Towhee that posed for a photograph (or 2).
19 June and we stayed an extra day and walked to Rodman's Hollow and then to New Shoreham for a great snack lunch, including clam chowder and lobster salad followed by ice cream. Then back to the boat for a rest!
One of the fresh water ponds inland, Block Island and.... ...turtles in one of the ponds sunbathing on a rock.
The south east light house, which was moved when the cliff started falling into the sea and one of the white tailed deer that inhabit the island.
Tomorrow we are heading for Shelter Island where the OCC meet will start on Sunday 21 June.
Alcedo
---