14/6/2015. Cape Cod and Provincetown. 42.01.86N 70.10.69W

Alcedo
David Batten
Sat 20 Jun 2015 23:24
12 June. Left Plymouth at approximately 11.00, all very civilised and dropped anchor after very calm motor sail to Cape Cod in the South West Bay, empty except for a couple of small motor boats and with virtually no one on of the miles of sandy beach and sand dunes except birds.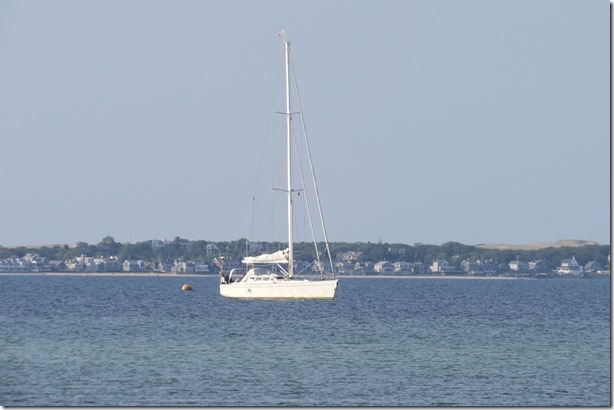 Alcedo at anchor off Cape Cod, with Provincetown in the background and facing.... ....the miles of sandy beach and dunes known as long point with the Cape Cod lighthouse.
Out with the dinghy and off to the lovely beach for a great evening walk with nothing but birds and seals and one fox that only Anthony saw, as he was way ahead of the rest of the crew as usual.
Skipper and Ship's Boy bird watching on Long Point, where we saw..... ....lots of eider duck...
Greater Yellow legs..... .....Common Yellow Throat....
Horned Lark on the dunes and.. ....barking seal in the bay
Anthony miles ahead of the rest of us walking towards the dyke between Long Point and Provincetown.
13 June. After a windy but sheltered night, the wind changed and we were on a lee shore, so we moved from the bay off Cape Cod to the anchorage off Provincetown where we were joined by Robin Knox-Johnson and Grey Power. After shopping for supplies and lobsters, safely delivered back to the boat, we went back to the town to indulge in tourist activities such as walking round the museum and the monument to the Pilgrim fathers and buying T shirts. Another lovely sunny day brought to a perfect close with another delicious lobster supper, thank you A and V.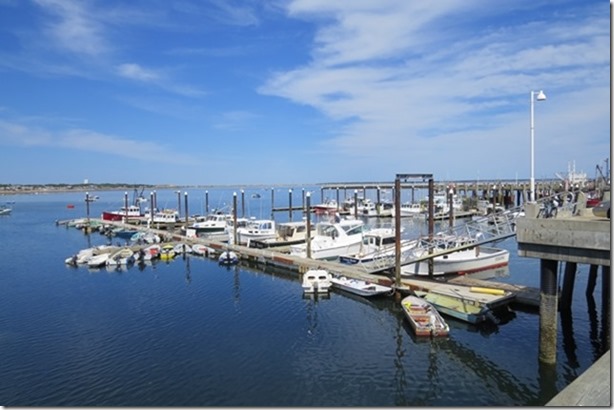 Provincetown harbour fishing vessels and...... .......Robin Knox-Johnson and crew in Grey Power.
We do like our lobster dinners!
Not sure where we are off to tomorrow, decision to be made in the morning.
Alcedo.
---