Blog 15. Gulf Harbour and Tiritiri Matangi Island. 36.37.28S 174.47.45E

Alcedo
David Batten
Mon 15 May 2017 18:05
It is some time since we left Alcedo in New Zealand, so this is the first of two catch up blogs just to complete our North Island activities.
In the event, our trip from Whangapara back to Gulf Harbour was a pretty civilised beat, with some engine assist when speeds dropped below 4 knots as we wanted to be in Gulf Harbour in good time to prepare for another visit to Tiritiri M in the morning. The marina staff were friendly and helpful as usual and allocated us the same berth as before, it almost felt like a homecoming!
Tiritiri the following day surpassed all expectations, with just a little drizzle to start with and then a bright, sunny day, with all the best in bird watching. We had other bonuses such as seeing rays from the dock, kiwi tracks and feeding holes in the beach, our first and only sighting of the Kokako, as well as hearing its haunting song and finally and totally unexpectedly, a great view of a Morepork. We returned to Gulf Harbour after a very happy day.
Doing our own thing on Tiritiri ......
.....which meant great views of Bell Birds......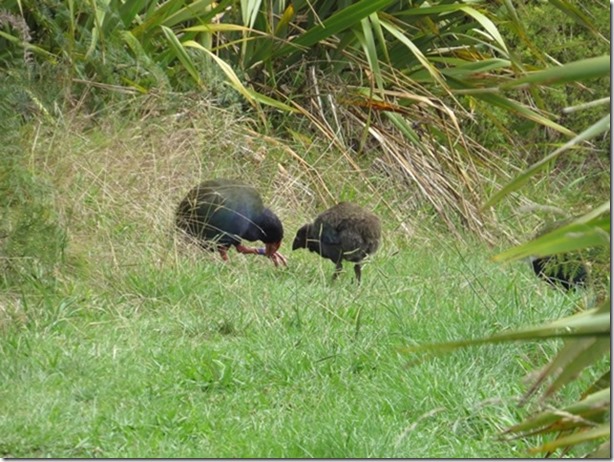 .....a family of Takahe....there are only 300 in the world so this chick is very important!
.....a Morepork but the beautiful Kokako sadly defeated the camera.
Friday 24 April and a sad goodbye to Jane, who had an very early flight to Australia to catch on Saturday. Back to a crew of 2 and preparations for our sail back to Whangarei via Kawau
---