Titusville for the winter

AJAYA'S CRUISE
Phil & Nikki Hoskins
Wed 3 Jan 2018 19:22
Westland Marina Boatyard - Titusville
It's Christmas! (Correction, it was Christmas when we started this missive some eight days ago). The day dawned fresh after an overnight cold front entered the area. The wind was northerly with a bite to it, although so far this winter we've had no real nasty Artic fronts to concern us too much. That will undoubtedly change in the New Year and the diesel heaters will be in serious action. Weather doesn't really concern us so much as we're firmly sitting on the same patch of ground Ajaya has been occupying since last April. Due to events back home she will still be sitting here until next October. We are returning to the UK in early March, making it a short working season onboard.
Since returning to the boat in October we have set about various tasks that needed undertaking from the long jobs list. At least Ajaya is getting some much needed attention. New Coppercoating on the underwater areas of the hulls, windlass plate rebuild with new seals for the windlass itself. Finish the hard top and now we have a small leak from a front window. Have also shipped onboard a new day fridge, the second to be delivered as the first arrived damaged in transit.
She weathered Hurricane Irma extremely well with just slight damage to woodwork inside around the main entrance. Despite being tied down with straps its clear she bounced around quite a bit on her blocks during the storm. She faired better than other boats in the vicinity where complete inside flooding occurred through leaking hatches and windows. Picture the scene - a boat with a couple of feet of water inside then daily temperatures in the 90's and 100's unaired for two months or more - yeuch. Anyway, that's two near misses in two years from tropical storms. Just hope our luck holds out in the future.
This boat wasn't so fortunate when Irma went through.... and these didn't fair so well either, as they were rounded up by a crane barge on the Indian River
We spent a whole day yesterday and much of the previous day cleaning the decks of a strange purple-ish residue which was running off the back and heavily staining the run-off areas. This is obviously atmospheric pollution but from where it emanated we can only speculate. Aviation fuel perhaps, as we're close to two airports but then we've laid up here for a few years and have not had the problem before. Local fires on Merritt Island produced black particles but no staining. Of course there was that catastrophic event a few months ago when one of the Space-X rockets exploded after take off. That must have released a whole mass of burnt or unburnt fuel into the surrounding air. But nobody seems to know.
It's not been all work and worry though as we did get out of the yard to see the local Titusville Christmas parade. This is always a colourful event but this year it took place on the coldest evening of the winter so far. The parade started late and in all took nearly 3 hours to pass us. At least it would have done but we bailed out as did many other people due to risk of hypothermia. Many of the children who had been taken to see the event and glimpse Father Christmas in the last float would have been disappointed. But we did take a few pics before heading off to a local eatery.
Waiting for the parade..... we thought we would be warm enough – we weren't! Looks like the 'Admiral' has sat on Rudolph's antlers
At last, the floats arrive..... and the marching bands.......
.....then the Shriners (childrens charity) arrived in their dinky cars. (yes it did look like they were kidnapping a child)
Back to Christmas and it was a real joy to be invited to friends in Orlando for our first real Christmas dinner in ten years. And that wasn't all, as we had a wonderful doggy to give hugs to whenever we wanted. Thank you so much Alan and Ann (and and not forgetting Aspen of course).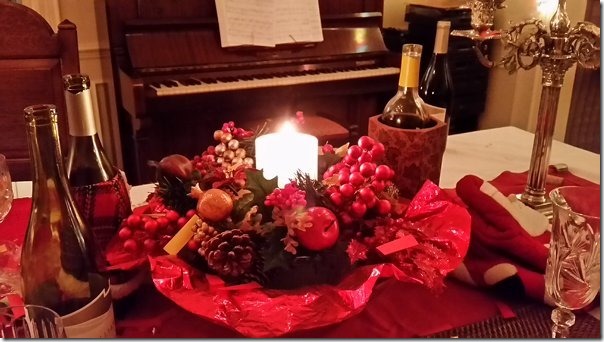 The most festive scene we've seen in years!!!
January 3rd 2018
We now have our first Artic frontal system of 2018 and northern Florida has snow and ice. We're in the middle so will be spared the white stuff, just, but the boat is rocking as we are hit by gale force winds on the starboard side and have been for the last two days. That's all we'll say as we know the UK is in the grip of even nastier weather which means we're all starting off 2018 feeling pretty miserable. It can only improve.
END
---