Elizabeth City

AJAYA'S CRUISE
Phil & Nikki Hoskins
Sun 31 Oct 2010 16:10
36:17.85N, 76:13.07W
The previous day ended in warm humid conditions. We awoke the next morning feeling as if we had fallen into a refrigerator. It was cold enough for polar bears. We were up at 0530 as the boat inside us wanted to leave early. Judging by the activity on others rafted behind us they were also wanting to be on the move. But it was still dark and with sunrise not until 0720 there was no incentive for us to head off before then as we had hit quite a few deadheads already in the canal. These are waterlogged branches and trunks of trees floating just below the surface. The Army Corp of Engineers are responsible for rounding up these dangerous obstructions and securing or removing them from the waterway. However, they don't get them all and with a tree-lined canal some are bound to break off and float around for a while. Newly fallen trees and branches are more easily seen but those that have become waterlogged are much harder to spot, and in the dark, virtually impossible.
It seems everybody else felt the same way except for a small yacht with an older couple onboard who decided to head off into the dark canal. No doubt arguing with each other as they had done most of the previous morning when we had passed through Deep Creek Lock with them. We had visions of them looking like Punch and Judy in the distance hitting each other with pans and winch handles speaking in a language that sounded vaguely like Russian.
After about 2 hours the sun finally rose enough to light the way and off we all motored in the direction of South Mills Lock, a long convoy stretched out over a mile. We caught up with the older couple who had made it to the bridge just before the lock seemingly without incident although that was to change in the lock. The poor lady, who was certainly not dressed for boating, had to let the extremely short bow line go as the water level was dropping rapidly and finished up trying to cling onto the bollard which was getting further away by the second. This induced another 'domestic' between the couple whilst other assembled yacht crews wryly looked at each other. We'd all been there before!
Elizabeth City extends a warm welcome to boaters and was unchanged since we last passed through in June, with free dockage, a wine and cheese get together and a kind hearted unofficial dockmaster Sam Vanderslice who spends much time driving us 'freeloaders' around to get fuel, propane etc. We enjoyed the stay back in June and came this way to enjoy the hospitality once again. (And to get our propane tanks refilled - we now have enough gas to last through into next spring or be able to launch a space shuttle!)
Yesterday morning we enjoyed the University Homecoming Parade which passed close by the boat. Plenty of marching bands, twirling batons, and some particularly cute little children playing their own part in the parade.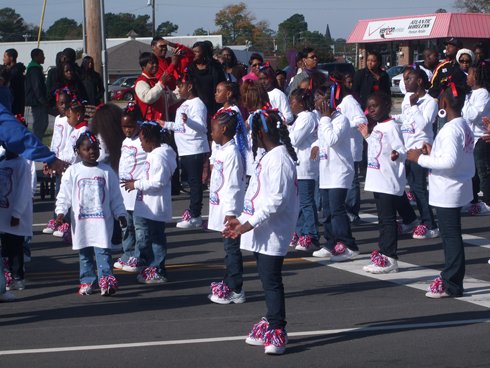 Lots of marching bands Not sure what was going on here, dissent in the ranks perhaps?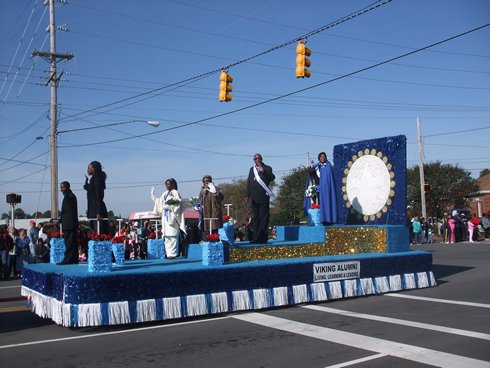 These are Alumnis - former students or graduates returning Each marching band had some dancers parading ahead of it
Tomorrow we head down the Pasquotank River and across the notorious Albemarle Sound towards the Alligator River.....
---