Christmas at French Harbour followed by New Year's at West End - Roatan

AJAYA'S CRUISE
Phil & Nikki Hoskins
Mon 2 Jan 2012 22:21
16:17.554N, 086:35.828W
After what seemed an eternity the port engine was finally bolted back together and fired up although not before two significant events occurred. 'Skip' taxed the 'Admiral's' temper to the limit by announcing that all the small copper banjo rings which seal the fuel unions against leakage needed annealing. This required the use of the galley stove. Having obtained the correct permissions (in triplicate and with threats of severe violence should there be a major cock-up) he set about holding the first 6 of the 12 little polo sized washers threaded on a piece of stainless steel seizing wire held by an oven glove over the gas flame. When they were a nice glowing red-hot colour he turned to plunge them all into the small receptacle of cold water next to the sink. They were reluctant to take a cold dip so a small shake and, horror of horrors, they all fell off the wire missing the water by a mile landing straight onto the galley worktop - still glowing but now augmented by a plasticy burning smell! A distraught skipper frantically tried to usher them into the cold water container now situated in his hands at the edge of the worktop using the wire as a small hockey stick which was itself still pretty hot. Having finally managed to achieve this dangerous feat both of us surveyed the newly decorated worktop with 6 perfect round, brown burnt rings marking the location of the calamity, possibly forever for all we knew. And there were still another 6 to do. As luck would have it, some wet and dry, used carefully by the 'Admiral' removed all traces of the accident apart from our countertop now being extremely smooth in that area. Future annealing projects will involve considerably more precautions along with damage limitation studies! The other event was the discovery that the on-board torque wrench, which we have carted all the way from the UK, that came with the boat, turned out to be virtually useless. It only torques down to 50 ft/Ibs which would just about suffice for a small petrol car engine, but not a diesel which requires torqueing to almost 100 ft/lbs !! Luckily, a call over the morning SSB net brought help and within an hour we had the correct tool onboard for the job. (sorry for all the technical blog stuff).
Christmas Eve in French Harbour started with two fellow cruisers dinghying around the anchorage with presents of freshly baked cookies beautifully wrapped up on a decorative plate with ribbons which we thought was a wonderful gesture - bless you both Connie & Jim.
Kind Christmas gift delivered to our 'door'!
Christmas lunch gave us a chance to relax and mingle with our neighbours as the new small marina close-by threw a free Christmas feast for any cruisers that wanted to attend. Before thoughts of turkey, stuffing, sprouts, gravy and all the other trimmings spring to mind we would quickly explain that our host was Venezuelan and possibly had never even seen a sprout in his life. So it was barbecued kebabs chicken, pork etc with rice, refried beans and salad, with the cruisers bringing along a selection of yummy deserts. So yummy in fact that friends of the marina owner that had also been invited and being perhaps tired of waiting for the kebabs to exit the barbecue laid into the deserts instead. The Jell-O No-Bake cheesecake mix we had taken (itself the subject of much on-board chagrin) disappeared before either of us got anywhere near it. We did hear someone say "Ooohh - Cheesecake!!" and that was that - gone! But a great time was had by all and it meant that unlike Christmas 2010, which we spent in Lucaya entertaining ourselves, this time we enjoyed the company of other cruising folk which was much nicer. The kebabs finally appeared although a naughty thought entered 'Skips' head - the marina was right next door to Sherman's Iguana sanctuary and that the critters have a tendency to roam......well you know where that thought was going! Apparently they taste just like.....no, don't go there!!!!
No wonder the puddings disappeared! Little blighter!!......... ...............whilst we all patiently waited for the kebabs to arrive
So Christmas Day over - onwards towards New Year and we have now joined another batch of cruising boats in the Marine Park at West End where our anchor remains on the bow roller as mooring balls are the order of the day. Cost is $40 per week or $100 per month. The 15 mile trip undertaken on a glassy calm sea gave us a chance to give the re-assembled port engine a good run although we must have left a couple of gremlins loose in the engine bay. We almost shredded the large drive belt which on routine inspection could be seen whipping around the pulleys throwing black rubber particles all over the clean engine room. Otherwise everything was working OK.
West End is a more touristy spot situated right at the western (blunt) end of Roatan - thus it's name. It features a large lagoon with a fringing coral reef which provides protection from the northwest through southwest. Closing with the end of the island we were treated to the spectacle of a waterspout. This amazing sight stayed up (or is it down) for long enough to get a picture. It didn't cause any damage although one local cruiser in the past had a nice sized Snapper delivered to his dock courtesy of such a freak event.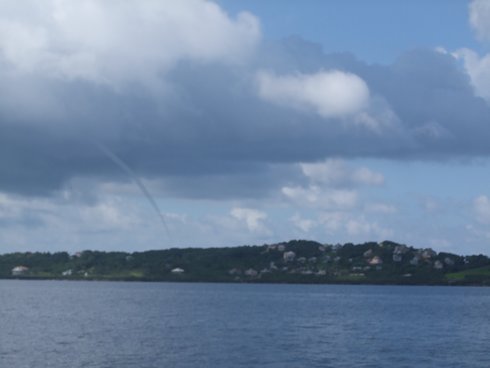 Water spout sited off the south-western point of Roatan (scary) Beautiful West End scene
Downtown West End and the local beach with dock bar!
One thing hasn't changed from our previous location - boat-loads of wet-suit clad divers frightening the life out of the local fish population. Roatan is to the diving community in this part of the world what Mecca is to Muslims. However we haven't swum too much off the boat as our friends announced on our arrival here that a 4ft long Barracuda lurks in the park putting the fear of God into swimmers. But we have managed to get off the boat for 2 snorkelling expeditions at the reef. One on the inside where we were lucky to spot a small school of squid. Then on another dive, on the outside of the reef, the 'Admiral' spotted a large black Grouper. Down below Phil was busy following a large shoal of blue Grunts. There were possibly 2-300 of the little fish which he followed from a respectable distance given that as they vociferously eat they also likewise excrete!
An organised dockside happy hour on an unused private jetty brought most of the cruising folk together where the usual 'bring drinks and an hors d'oeuvre to share' request (horses doofers as we call them) brought out an interesting miscellany of tasty dishes set up on a portable table. Not being a wide dock and with animated conversation it was amazing that nobody fell or was pushed into the water especially after a few drinks!
Sunset with cruisers 'Happy Hour' in full swing West End beach looking southwards with horse-play in the foreground
Given that our fun and games had taken a back seat whilst the engine was being repaired we decided that we would splash out (literally) and pay a visit New Year's Eve afternoon to the Anthony Keys Roatan Marine Institute. For the mere price equivalent to another Yanmar head gasket we could spend half an hour in the company of some friendly dolphins, something we've wanted to do for many years. We'd last tried this activity when in New Zealand where we were taken out for two hours on a freezing cold 'Admiral's' Birthday and 'encouraged' by the boat captain to jump into the like-wise freezing cold water to pointlessly swim after a school of wild dolphins that were plainly not going to slow down to allow desperate thrashing swimmers to get anywhere near them. Closely avoiding hypothermia we had been retrieved - suffering from cramp with mission unaccomplished. However, in Roatan the dolphins are penned and have trainers (not the shoe variety). It was too good an opportunity to miss and hopefully our next missive will substantiate that fact.
So, after tickling dolphin tums and behaving like a couple of kids in the process it was back to West End where we met up to spend happy hour drinking with fellow cruisers before repairing to a friends boat to polish off the remains of some rum before helping them open 2 bottles of the bubbly stuff. Today, January 1st 2012 our heads are somewhat delicate!!!
Gathering at a West End bar for New years Eve drinks enveloped in barbecue smoke - then a quick bite to eat at the Chicken Rotisserie (Prawns for the 'Admiral')
before heading back to friends yacht for (too many) more drinks, proven by the silly face!
Happy and Healthy New Year to everybody (we hoarsely whisper).
---