Sidetrip to Antigua

AJAYA'S CRUISE
Phil & Nikki Hoskins
Thu 28 Jul 2011 17:46
We have recently returned from a week's respite from the heat and humidity of Rio Dulce, not to mention a few million mosquitoes, by visiting the ancient city of Antigua which was in the distant past the capital city of Guatemala. Lying at 5,000 feet above sea level Antigua enjoys a perpetual springtime climate perfect in which to spend some time exploring one of Guatemala's greatest treasures.

Getting there requires a six hour bus journey from the Rio Dulce via Guatemala City, itself well above sea level, but lacking the quaint charm that Antigua offers. As we did with Havana, Cuba, this trip is posted in several parts. In this blog we cover the journey which contained much of interest as we travelled from the Caribbean coast, where we are staying for the summer, across the country and into the mountains. So take this trip with us to Antigua and back................

Rio Dulce at 0800 on Sunday 17th July. In a bus operated by the Litegua company we set off for Guatemala City some 258 kms away (155
miles in English money) with a scheduled pit stop about half way. Antigua was a further 23 kms after changing buses. Safety and security when travelling about Central American countries is a constant consideration as reports of hijackings and robberies are commonplace. If you use what is known locally as the 'chicken buses' your chances of this happening are probably increased. These ancient vehicles, bright and colourful as they may be, have already completed years of service as school transport in the USA. They still continue to operate between villages throughout the region picking up passengers pretty much as and when with no apparent on-board security to lessen the chance of attack by 'banditos' . If that weren't enough bald tyres are in abundance along with ancient engines that emit serious amounts of black smoke, so you need to be on a very desperately small travel budget to think about using these buses or crave adventure! Besides the journey to the city would probably double in timescale if you did and you would not arrive in good shape!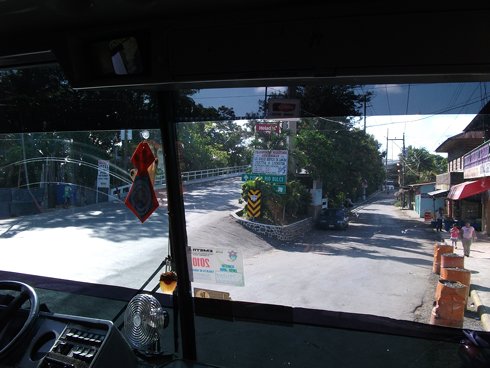 Litegua agency - Rio Dulce, where our journey starts ............. shortly rewarding us with some river views from the bridge as we head southeast
The Litegua buses stop only at it's own official agency locations in towns along the way where there is a ticket office and a permanent armed presence to ensure passengers safety. Many people attempted to flag the bus down along the route but this service doesn't stop on request although we became familiar with the sort of road-side gestures people use after they have been passed by. Cost-wise they are excellent value as our trip proved, with the cost per person to Antigua from Rio Dulce amounting to a paltry Q106 (about £9) for over 280 kms travel.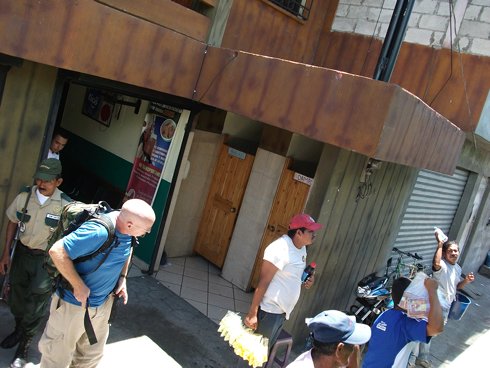 First stop along the way complete with security guard, fruit sellers & on the way back another enthusiastic bunch of vendors hurrying towards the bus

Sitting in a busy bus station with a security man of diminutive stature close-by clutching a pump-action shotgun with a belt full of cartridges is initially alarming but then you wouldn't want him to be too far away whilst you are waiting for your bus to leave. Passengers are frisked and carry-on bags are searched for concealed weapons on boarding the bus.

For reasons unknown Litegua seem to reserve the front section of the bus for the 'gringos' with locals sitting at the back. We joked that this was convenient for any robbers as the best pickings were in the front seats thus not unduly disturbing the locals travelling in the back. Typical British trench humour of course!
One way traffic operation due to a flooded house which they were still trying to clear a week later. Sound asleep in the back on a sack

Some buses have air conditioning that actually works but a quick look at the driver's controls with so many missing switches reveals that much of the original equipment fitted has long since ceased to function including the aircon, although all Litegua buses have air pressure monitoring equipment fitted to the wheels which was some comfort. The driver has a 'driver's mate' who takes care of the paperwork, checks numbers of passengers and climbs into the luggage hold to retrieve bags. These are all numbered airline style thus avoiding the possibility of somebody alighting at a town along the way and walking off with bags that don't belong to them. Hopefully he's also there to keep the driver awake! Our bus on the return leg had, along with several large cracks, what looked suspiciously like a bullet hole on the passenger side of the front windscreen......
Half time stop............... ......but leave these in your car ! Queuing for a good frisking!

As to the drivers, that's where we had one or two moments of concern, especially the outbound leg, until we realised - silly us - that he must have developed X-ray vision over the years to know that there was nothing round the next blind bend that was bigger and heavier then we were – plenty lighter but they just had to get the hell out of the way. What was a concern was that the driver was constantly on his mobile phone making and receiving calls in quick succession which often coincided with an ambitious overtaking manoeuvre up a steep incline with oncoming trucks fast approaching. One lesser concern was the possibility of being showered by cow pee through our open window as we passed lorry after lorry jam-packed with the beasts who either had rears pointing inwards towards the fields or outwards onto the roads exactly at the same level as the open windows of the bus. We inwardly winced especially uphill as the bus would struggle to overtake a lorry belching smoke and leaking cow pats and liquids. And there were a lot of them!
So much beef on the move.......... double yellow lines are invisible to many drivers get ready to duck!!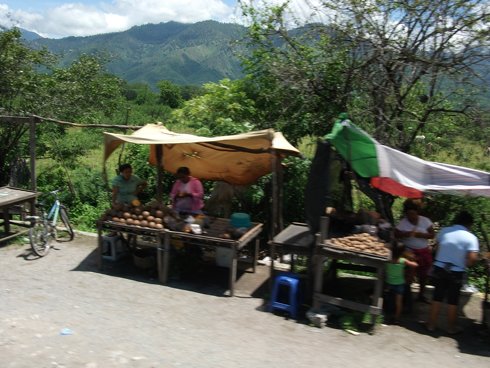 New section of concrete highway reputedly paid for by the Chinese beautiful scenery every type of fruit
Outskirts of Guatemala City markets and 'Chicken Buses'
Into the city purchases made through the bars of this shop.......
Arriving safely in Guatemala City (it looked rough in Zone 1 where the bus station is situated) we waited for the smaller bus to take us up to Antigua. This was an uneventful trip in a packed 12 seater with the back three seats piled high with luggage. It should all have been on the roof rack but we were glad it wasn't as we went through a thunderstorm with torrential rain on the way - we had been pre-warned to pack everything into plastic bags just in case. Finding space for Phil's legs proved a challenge so we were relieved when the trip terminated in the pretty main square quite close to the hotel we were checking into as a six-some.
Our journey across Guatemala had taken, beginning to end some seven hours and on a geographical note we were also closer to the Pacific ocean than the Caribbean. With four nights stay and a further three in Guatemala City on the return leg we were looking forward to some exploring and excellent food in good company. We weren't disappointed on any of these counts and furthermore we were out of the oppressive heat we endure daily in the Rio Dulce.

---